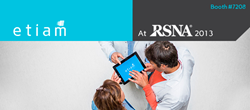 To date, ETIAM-Connect is the only solution on the market offering both advanced medical image exchange workflow.
(PRWEB) November 22, 2013
Recently, many hospitals, physicians and organizations have been struggling to collaborate due to the fact of incompatible CD's and patient studies within their in-house systems. It has inevitably has had a negative impact on patient care as well as increased cost for the hospital. With this, hospitals have been more open to new methods of sharing patient studies and collaborating with professionals within and outside of their organization.. ETIAM has been providing solutions that provide just that to hospitals worldwide.
ETIAM which is headquartered in France but maintains a full time operation in Cambridge, Massachusetts provides hospitals and institutions with a solution that allows doctors to eliminate the use of pesky CDs and move to a completely digital platform. The platform, ETIAM-Connect, give physicians the power to view and open a CDs that comes in from an outside institution, share and review those studies and images that are stored within the CD, and send them to referring physicians and upload to the PACS. ETIAM-Connect is a one stop shop for managing outside studies and images within the institution. Professionals can even convert the image formats into the popular DICOM format instantly in the platform.
With ETIAM attending the RSNA 2013 show this year, they have made a few updates and changes to the platform that they believe will bring the missing human aspect to patient care. The New Nexus 4.2 update now boasts a smoother client interface, one that lays out the successions of a patient's information in a easy to view format. Physicians can now view a patient's information and chronological list of their current and past studies all within on platform, all optimized for multiple viewing platforms. This new update reduces the amount of time it takes for a physician to understand a patient's history and make an accurate diagnosis.
In addition to the new user interface, ETIAM has recently partnered with Vidyo, a videoconferencing company that bring an additional telecommunication aspect to the platform. This new feature incorporates a video conferencing session right in the platform for physicians and referring doctors to collaborate on studies receive second opinions.
"Our goal of integrating HD video teleconsultation into our highly regarded ETIAM-Connect service is to provide a comprehensive solution for telemedicine that includes the ability to electronically exchange medical cases, share medical images and perform real time video conferencing," said Eric Le Bihan CEO, ETIAM. "To date, ETIAM-Connect is the only solution on the market offering both advanced medical image exchange workflow, as well as teleconsultation services. These two services are required for handling telemedicine expertise where access to radiological images and a remote view of the patient are prerequisites to perform an accurate diagnosis [as is the case for stroke patients, for example"
ETIAM will be presenting the new updated ETIAM-Connect platform this year at RSNA 2013 booth #7208. There they will have three stations in which attendees will be able to test theirvideoconferencing solution in real time as well as see the management capabilities of the new ETIAM-Connect 4.2 software.
About ETIAM
With more than 2,000 customers in Europe and North America, ETIAM solutions allow physicians to securely and reliably exchange medical images in real-time while benefiting from 24/7 support. The company's expertise in international healthcare standards, including DICOM, HL7 and IHE profiles, uniquely positions itself to provide solutions for hospitals and healthcare vendors worldwide. Learn more at http://www.etiam.com, or follow ETIAM on Twitter ETIAM Corp and on Facebook.