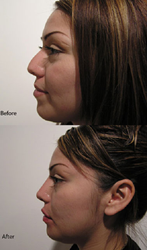 After more than 10 years and over 1,500 patients, I can definitively say that, when done correctly by a well trained and experienced injector, Non Surgical Rhinoplasty is an extremely safe and effective procedure.
Los Angeles, CA (PRWEB) December 03, 2013
The revolutionary non surgical rhinoplasty (watch the video), developed by Dr. Alexander Rivkin, M.D., a cosmetic surgeon based in West Los Angeles and the Beverly Hills area, has become the go-to alternative to conventional rhinoplasty.
The development of the non-surgical rhinoplasty arose out of Dr. Rivkin's passion for patient care. At Westside Aesthetics, his clinic in LA, he works closely with his patients to develop the right strategy for the individual. In his years of practice, he has empathized with those who have expressed reluctance to "go under the knife." As a result, he has spent his career innovating non surgical techniques. By making cosmetic enhancements less invasive and more accessible, he has provided advanced options to those who otherwise might eschew a surgical procedure.
In keeping with this commitment to find quality, non-invasive alternatives, Dr. Rivkin pioneered the breakthrough technique in 2004 - and has been perfecting it ever since. The basis for the procedure is extraordinarily simple: reliable dermal fillers such as Radiesse, Artefill, and now Voluma are injected under the skin to fill depressions, smooth irregularities, and shape the contours of the nose. Absolutely no incisions are made and anesthesia is not needed, only a topical numbing cream (which is applied immediately prior to filler injection). Also known as the "15-Minute Nose Job," this fast, painless, no-downtime procedure is ideal for those who want the reshaping of rhinoplasty, but without the risks.
Having skyrocketed in popularity since its invention, Dr. Rivkin has performed over 1,500 non-surgical nose jobs. In addition to avoiding the potential complications associated with surgery, patients who have chosen "injection rhinoplasty" over traditional rhinoplasty, have experienced a unique benefit: control of outcome. During the process patients can monitor progress in the mirror and offer feedback. Because it affords the patient such instant results, patients do not have to wait for an unveiling of splints and bandages to see their new look. They leave their appointment relaxed and self-assured, with no bruising and no need to schedule postoperative follow-up visits. Best of all, it is more affordable than surgical rhinoplasties. For a fraction of the cost, patients can get amazing, lasting results with the non-surgical rhinoplasty.
As the first doctor to offer the procedure, Dr. Rivkin is the international expert, not only on cutting-edge of research and development, but also actively advocating the strict adherence to best-practices. As more doctors are adopting the procedure and making it more widely available to patients, Dr. Rivkin is dedicated to training others and setting standards.
People have different motivations for opting for a nose job, and the non-surgical rhinoplasty will not address functional issues, such as trouble breathing due to a deviated septum. But for those who want to say goodbye to that bumpy nose, the non-surgical choice is state-of-the art. Through his research, Dr. Rivkin is changing how we approach and practice aesthetic medicine. For more information, contact Westside Aesthetics.
To watch Dr. Alexander Rivkin perform a Non Surgical Rhinoplasty procedure on TV, click here. To learn more about this procedure in detail, click here.