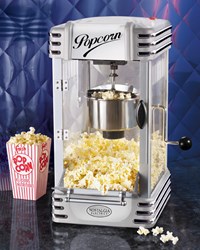 Green Bay, Wisconsin (PRWEB) November 22, 2013
It's the look of the future, as envisioned in the past. Nostalgia Electrics has put a new spin on their popular Retro Series by introducing the Retro Series Platinum Edition. Available at Nordstrom, items getting the Platinum treatment include the Single Snow Cone Maker, the Kettle Popcorn Maker, the Hot Air Popcorn Maker, the Pop-Up Hot Dog Toaster, the Hot Dog Roller, the Hard and Sugar-Free Candy Cotton Candy Maker and the Frozen Beverage Station.
"It's unique because it's inspired by the way that people in the 1950s pictured the time we're living in now," says Rob Houston, Director of Product Development at Nostalgia Products Group. "The regular Retro line is inspired by the '50s as it was, and the Platinum Edition is based on the concepts of what many people in the 1950s thought our current time might look like. The future they envisioned was very lux, with clean lines and a lot of chrome coloring."
With the same convenient features and compact but powerful designs as their retro red counterparts, the new Platinum Edition is an eye-catching option for those looking for high end products on their counter tops. Its sleek design is offset by chrome detailing and is the perfect retrofuturistic backdrop for consumers' favorite foods and beverages!
"Even with just the color change, there is a huge difference to the product," Gregg Bond, President of Nostalgia Products Group says. "It's a very chic look, whereas the original Retro Series is fun and lively. The Platinum edition has a more opulent look."
The Retro Series Platinum Edition Frozen Series is now available at Nordstrom and online, with a suggested retail prices ranging from $29.99 to $99.99.
Retro Series Platinum Edition Product Features:

Chic chrome coloring
Recipes included in instruction manual
The Retro Series Platinum Edition by Nostalgia Electrics is distributed by:
Nostalgia Products Group, LLC
1471 Partnership Dr.
Green Bay, WI 54304-5685
About Nostalgia Products Group, LLC:
Nostalgia Products Group, LLC, designs, manufactures and markets the Nostalgia Electrics brand of small electric appliances, a wide range of innovative products with a history of exciting consumers and retailers alike.
NPG products are sold through all major channels of distribution from both within the United States and to over 30 other countries. Retail and e-retail sales include all major department store chains, home shopping networks, catalogs and e-commerce companies, and the company's products carry the ETL, UL, GS and SSA electrical approvals internationally. In addition to product development, NPG's services include sales, marketing, warehousing and distribution. For more information, please visit Nostalgia Products Group, LLC online at: http://www.nostalgiaelectrics.com.
For more information, please contact:
Sales and Marketing
Nostalgia Products Group, LLC
Phone: 920.337.9800 Fax: 920.337.9984 E-mail: gbond@nostalgiaelectrlcs.com
For media inquiries, please contact:
Karilyn Robinson
Nostalgia Products Group, LLC
Phone: 805.337.9800 x153 E-mail: krobinson@nostalgiaelectrics.com
###