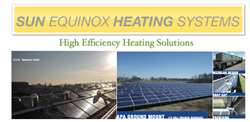 Hamilton, Indiana (PRWEB) November 23, 2013
Solar Usage Now, a leading thermal solar supplier and manufacturer of the SUN Equinox heating system, has networked with multiple partners in the renewable energy field to bring a full scope of turn key products to the market. President/ CEO Thom Blake is proud to offer a multiple product base to customers. Blake stated, "We have created a store front where we can serve our customer's thermal solar, photovoltaic, \wind power, and lighting needs. Our teams of experts have years of experience in the design, and install all forms of renewable energy. Our goal is to meet and exceed our customer's expectations."
Solar Usage Now is a full service renewable company founded in 2006 and is headquarter in Hamilton, Indiana.