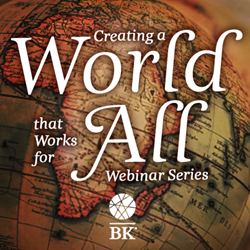 While everyone will experience courageous moments in their lifetimes, the way people experience courage is different across cultures.
Asheville, North Carolina (PRWEB) November 25, 2013
Cultural differences between the United States and Asia in leadership and followership will be the topic of a unique global webinar led by Bill Treasurer and other top names in leadership. "Exploring Cross-Cultural Courage" is scheduled for Dec. 5 at 8:30 p.m. EST.
Participants from the U.S. and Singapore will come together to examine the role of cultural context in the expression of courageous leadership and followership. Sponsored by Berrett-Koehler Publishers, the webinar is free of charge.
Treasurer, who will head up the webinar panel, is chief encouragement officer at Giant Leap Consulting and the author of "Courageous Leadership: Using Courage to Transform the Workplace" and the international bestseller "Courage Goes to Work."
"While everyone will experience courageous moments in their lifetimes, the way people experience courage is different across cultures. Americans, for example, pride themselves on 'speaking truth to power.' In some Asian countries, though, doing this would be viewed as disrespectful. In this webinar we'll explore the commonalities and differences of courage, leadership, and followership, across cultures," he says.
In addition to Treasurer, the webinar will feature a pair of top leadership experts:
John Graham, president of the Giraffe Heroes Project, a former diplomat and author whose works include "Stick Your Neck Out" and "Sit Down Young Stranger"
Ira Chaleff, an expert in courage and followership, was named one of the top 100 Best Minds on Leadership by Leadership Excellence magazine; author of "The Courageous Follower: Standing Up To and For Our Leaders."
The panel will be joined by special guests Robert Yeo, executive director and CEO of Singapore Training and Development and the STADA Global Chair member of the Learning Innovation Laboratory at the Harvard Graduate School of Education, and Tery Chua is a leadership and develop consultant specializing in program design and curriculum development in the areas of communication, team dynamics, leadership, and organizational training and development. It will be hosted by Becky Robinson, founder and CEO of Weaving Influence.
The webinar is the first in a series, "Creating a World that Works for All," sponsored by Berrett-Koehler Publishers Inc. Johanna Vondeling, vice president, international sales and business development at Berrett-Koehler, said, "We at BK are thrilled to be collaborating with our esteemed authors and special guests to pilot this new global webinar series. Helping authors and leaders around the world engage in dialogue across cultures is a perfect fit for our values and will surely help the BK community as a whole make great strides toward creating a world that works for all."
There is no charge to attend, although advance registration is required. To register or for additional information on the webinar and panelists, visit the webinar page on leadersopendoors.com.