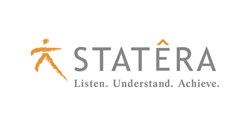 Our track record of developing enterprise-ready .NET solutions for our customers will now be extended to the Mobile platform by leveraging Xamarin's support for the .NET Framework while still allowing for native integration. - Josh Dollison, Statêra
Tempe, AZ (PRWEB) November 22, 2013
Statêra, "We Make Cloud and IT Services Easy™," announces its selection by Xamarin, enabler of development of cross-platform mobile applications, to join its Premier Partner Program. As an experienced Xamarin Partner, Statêra has the ability to accelerate projects with first-hand knowledge and proficiency at delivering exceptional apps.
"Statêra has invested heavily in the Xamarin platform for well over a year and we intend to fully leverage it as a primary solution for developing cross-platform mobile solutions. Our track record of developing enterprise-ready .NET solutions for our customers will now be extended to the Mobile platform by leveraging Xamarin's support for the .NET Framework while still allowing for native integration with iOS, Android, and Windows Mobile frameworks where needed." – Josh Dollison – Director of Custom Enterprise Solutions, Statêra
Aboutt Xamarin
Xamarin enables development of cross-platform mobile applications targeting phones, tablets and embedded devices running on iOS, Android, Mac, and Windows.
Xamarin was founded in 2011 with the mission to make it fast, easy and fun to build great mobile apps. Xamarin's products simplify creation and maintenance of high-performance, cross-platform mobile applications targeting phones, tablets and embedded devices running iOS, Android and Windows. Founded and staffed by many notable developers from the open source community, Xamarin is also steward to the Mono project—the open source, cross-platform implementation of C# and the .NET framework. For more information, visit http://xamarin.com/.
About Statêra
Statêra is a Gold Certified Partner and leading provider of custom solutions on the Microsoft Platform. Our expertise spans custom .NET solutions (Web, Rich Desktop), Application Lifecycle and Performance Management (ALM/APM), Dynamics CRM/xRM solutions, Mobility (iOS, Android, and Windows), and the Azure Cloud Platform. As a Certified Xamarin Premier Partner and Azure Circle Partner, our expertise enables us to build solutions that drive business transformation and measurable business results for cross-platform Mobile solutions leveraging the Azure platform. Headquartered outside of Denver, Colorado, Statêra has local offices in Dallas, Texas; Phoenix, Arizona; Salt Lake City, Utah; and Seattle, Washington, near and off shore delivery centers, and clients worldwide. Call us at 1.602.340.8500 or visit http://www.Statera.com.