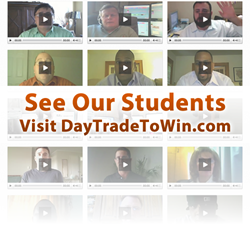 I want you to feel confident as a trader. I teach exact rules for every strategy so that you can trade objectively and consistently. My goal is to help you realize your financial goals as a professional trader.
Boca Raton, FL (PRWEB) November 25, 2013
Day Trade to Win has some very exciting news to share. As a recognized leader in day trading education, DayTradeToWin.com is launching a brand new Group Mentorship Program on December 3, 2013 and again in early January, 2014. Featured in "Stocks and Commodities" and "The Money Show", Group Mentorship is an all-inclusive eight-week training program designed to teach beginner and experienced traders how to be consistent in trading futures and currency markets. Instruction focuses on finding trade setups with the most profit potential.
The most common question asked by traders is, "Which strategies actually work?" Over 10 unique price action strategies are taught in the Mentorship Program, with exact rules for placing entries, profit targets and stop losses. John Paul, the founder of Day Trade To Win, will be personally teaching each class. He has years of experience with the trading and application of his methods. He only teaches what is proven to be effective. By the end of the program, students have a consistent plan to tackle any given trading day. Enrollment for the previous Group Mentorship Program was high, so December's class is expected to fill quickly. Enroll today at http://daytradetowin.com/mentorship.php.
During Mentorship, John Paul instructs students using a live display of his charts in a virtual training room. Students can see his charts and hear him speak while he configures his software, points out market patters, and demonstrates rules for taking each trade. Students can type questions to John Paul via the chat box for immediate verbal response. All classes are recorded for future playback. This is an invaluable asset to traders who want to review classes at their own pace. With on-demand education, it has never been easier to start making money consistently using a proven price action methodology.
The December 3, 2013 Mentorship will be every Tuesday and Thursday for eight consecutive weeks. January's Mentorship will be on Mondays and Wednesdays. When class occurs on a holiday, classes will continue on the next regularly scheduled training day. Classes are about an hour in duration and questions through email are encouraged.
In addition to the live training, education is supplemented by the following digital courses that are provided each week as per the syllabus:

ATO (At the Open) (79 pages) (includes software w/ a lifetime license)
Price Action Scalping (65 pages) (includes software w/ a lifetime license)
The Trade Scalper (101 pages) (includes software w/ a lifetime license)
Floor Trader Secrets Manual (X-5 Method) (25 pages)
Each of these courses teaches a unique and objective way to trade the markets. John Paul's style of trading, price action, is unique, and relies on identifying trade "setups" based on price and manipulation patterns. Once these patterns occur, he uses specific rules that alert him where to enter a trade, how much profit to go for (profit target), and how much to risk (stop loss). The rules to engage the market are entirely objective and do not require students to use complex math or indicators.
In addition, the following methods are also included:
Atlas Line (software w/ a lifetime license)
Blueprint Trade
RoadMap Trade (includes software w/ a lifetime license)
ABC Method (includes software w/ a lifetime license)
Filtering Trades
Market Manipulation
Trading News Events
Market Analysis
John Paul uses the NinjaTrader software platform for his charts and placing trades. Upon request, students are provided a demo copy of NinjaTrader along with a live, real-time demo data feed. Using live charts, students are able to simulate real money trading without the risk. The Day Trade to Win team provides complete support upon request, to aid with the installation of NinjaTrader and the software included with Mentorship. The trading blog is also full of helpful trading. Mentorship is truly an all-inclusive program.
Typically, about half of the Mentorship class consists of traders who are brand new to trading. The other half usually consists of traders who have a year or more experience. Instruction is designed to be foundational, with basics taught in the first weeks while progressively becoming more systematic. Students who have never traded a day in their lives often catch on quickly. Those who are new to trading are encouraged to email Day Trade to Win at support(at)daytradetowin(dot)com. Beginners are provided a copy of the Get Started Trading Guide, NinjaTrader, and a live data feed for practicing prior to joining up.
Training focuses on the E-mini S&P 500 futures market primarily, although methods such as the Atlas Line, The Trade Scalper, the Blueprint Trade, and others can be adapted to trading other futures, currencies, or traditional forex currencies. After the eight weeks of training, students are invited to email questions for continued support. Do not wait until the last minute – enroll today at the Mentorship page.
About Day Trade to Win
Day Trade to Win (http://daytradetowin.com) teaches traders how to reach consistent results when trading the world's most popular futures and currency markets. On the web since 2007, the Day Trade to Win website offers a variety of free trading strategies, day trading courses, demonstration videos, trading results, and testimonials. The website was founded by trader John Paul, who, after spending years on the trading floor, adapted his knowledge to work with Internet-based trading. Day Trade to Win clients receive education on the most reliable trading strategies, based on years of real-world application.