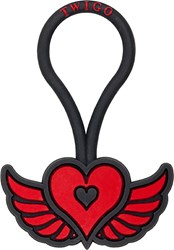 Protect your pets from the incessant jingling of their tags with NEW Twigo Pet ID Tags.
Hoboken, NJ (PRWEB) November 25, 2013
It's 3 a.m. in the morning. Just what is that sound? It's your dog, moving around the house, jingling. Those darn pet ID tags. Lying restless waiting to fall back asleep. Jingle jingle jingle.
The answer to "end the jingling" is here. NEW Twigo Pet ID Tags were developed by a pet owner looking for a little peace for their dog and their home.
Jingling tags drive many dogs crazy. Karen London PHD and CAAB (Certified Applied Animal Behaviorist) blogs on the Animal Language Institute, "There is one simple way that so many of us can make our super-eared dogs happier and make their daily lives better: Protect them from the incessant jingling of their tags."
Twigo Owner, Frederic said, "We've gone through embroidered collars, Sharpie marked collars, engraved enamel tags, engraved metal tags, tag silencers, taped ID tags to reduce noise and none of these solutions were ever THE one. Eventually we settled on taking Melou's tag off while inside the house. We knew the risks and eventually decided to solve our own problem and designed Twigo Pet ID tags."
Twigo tags are completely silent, lightweight, weatherproof and easy to clean. They self attached to any collar's D ring. No engraving is required and personalizes instantly with a ballpoint pen. Plus, they are made of silicone that is toxic free. Twigo Pet ID Tags come in fun shapes and colors.
Protect your pets from the incessant jingling of their tags with NEW Twigo Pet ID Tags. Available on-line at http://www.TwigoTags.com or at local retailers in NYC Metro area.
If you would like more information about these Pet ID tags by Twigo, please visit http://www.twigotags.com or if you are a member of the media and would like to request a product sample, high-resolution image, additional product information please contact Janine Berger at 888-276-1231 or email twigo(at)twigotags(dot)com.
About Twigo LLC
Twigo is on a mission to ensure quiet Pet ID tags are available to use instantly everywhere. Founders Janine Berger & Frederic Gillet have more than twenty years in development, manufacturing and engineering consumer products. Patent Pending.
Online: twigotags.com
Facebook: facebook.com/Twigotags
Twitter: @Twigotags
Pinterest: pinterest.com/Twigotags