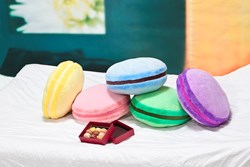 These adorable French cookies have turned into a trend that keeps on trending. Some might even say it's the new cupcake. But what's more interesting is that you see it everywhere now: fragrance, jewelry, makeup, the list goes on...so why not for the home?
Chino, CA (PRWEB) December 03, 2013
CandyCloud introduces its first line of home décor accessories: macaron-shaped throw pillows. Taking on the form of the trendy French cookies, they offer a unique take on the standard decorative pillow.
While some pillows come in assorted colors, CandyCloud's macaron pillows come in five fun "flavors" instead: Vanilla Raspberry (pink), Lemon (yellow), Pistachio (green), Early Grey (blue), and Lavender (purple). Looking almost good enough to eat, these pillows add special flair to any space.
In addition to being adorable, in their likeness to the real macaron dessert these pillows are made with high-quality, velvety fabrics that prove that they are far more than just display. Each pillow is 14" wide and stuffed with 100% cotton, making it a comfortable option when you want to get cozy.
The pillows are available to order online for $25 each, or $100 for a value set from their official website http://www.candy-cloud.com. Nationwide shipping is free for orders over $20. Have an Amazon.com account? You can order the pillows off of Amazon.com as well! Also, check CandyCloud's Facebook page for exclusive offers at http://www.facebook.com/candycloudbrand.
CandyCloud is the creation of five individuals from Southern California who have a soft spot for home decor, interior design, and food. Put all three together, and you get a macaron pillow – CandyCloud's first launched product.