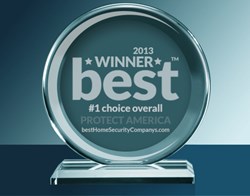 Our Besty awards are not easily obtained. The recipients should be very proud of their accomplishments, and strive to be nominated each year.
San Francisco, CA (PRWEB) November 25, 2013
Throughout this last year BestHomeSecurityCompanys.com has reviewed over 100 companies, making them the largest home security review site in the industry. Today, BHSC announced its 2014 winners of the highly sought after "Besty Awards".
When asked why the Besty Awards were created, Robert Siciliano, Director of Reviews, responded, "We wanted to help consumers find not just the companies that are honest and trusted, but also help identify to consumers the home security companies that are performing above their peers." BHSC has aggressively stayed true to this course by rigorously investigating over 110 unique home security companies while holding each review to the same standard.
Earlier this week in a small, weekly meeting Mr. Siciliano said, "Our Besty awards are not easily obtained. The recipients should be very proud of their accomplishments, and strive to be nominated each year. It speaks volumes to consumers doing research on their company." According to BHSC, Agencies must maintain a high standard throughout the year, meet or exceed certain rating requirements, and maintain positive relationships and feedback with their customers.
Here are 2014's Besty Award Winners and the four individual categories that accompany each award:
#1 Top Overall Choice: Protect America
This award is based on BHSC's highest overall rated company using their 9-point ranking criteria. This award is the most prestigious and difficult to obtain.
Most Innovative: LifeShield Security
This award is based on the most innovative technology used by a home security company. LifeShield Security designed and promoted their tablet control panel with a proprietary app to control the entire system.
Best Value: Guardian Protection Services
This award is based on the company with the highest overall score with the least of amount of time in business.
Best Customer Service: ADS Security
This award is a staff selection, and goes to a company that may no be national but maintains quality service, and deserves the recognition of a national home security service.
In addition to the four awards BHSC announced its Top 25 Home Security Companies:
1. Protect America
2. LifeShield Security
3. Guardian Protection Services
4. FrontPoint Security
5. ADT
6. ADS Security
7. Ackerman Security
8. Monitronics
9. Alarmco Inc.
10. National Certified Alarms
11. SimpliSafe
12. LiveWatch Security
13. Forward Home Security
14. Time Warner Cable
15. EPS Security
16. Habitec Security
17. Security Equipment Inc.
18. Alarm Detection Systems
19. 1st Security
20. GEOARM
21. AFA Protective Systems Inc.
22. Security Systems Inc.
23. Security Systems of America
24. Safeguard Security and Communications Inc.
25. SafeMart
These prestigious awards showcase the great efforts and work done by home security companies throughout the year. "We congratulate each company who won an award this year, and look forward to next year," said Robert Siciliano during the live announcement.
BHSC advises consumers to look for the BHSC Besty badge on home security websites for an additional layer of trust and protection. The BHSC Besty badge serves as a symbol of trust to consumers. "We're in the business of helping people, and we want that help to be as recognizable as possible." Consumers can learn more about BestHomeSecurityCompanys.com and it's initiative to provide the best information by visits their website.
BestHomeSecurityCompanys.com is the leading home security review site on the web and sets itself apart by providing accurate data and real reviews. BHSC employs leading experts to research home security companies and craft authentic reviews. Each of the customer-generated reviews is thoroughly vetted before posting. For more information visit http://besthomesecuritycompanys.com