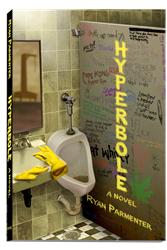 "Hyperbole" twists many real-world elements for its own purposes, but they remain eerily familiar.
Detroit, MI (PRWEB) December 17, 2013
This reality could be right around the corner. America is a distorted shell of its former glory, and its vulgar inhabitants are intoxicating themselves to numb the pain. So it goes in the world of "Hyperbole." The satirical novel finds a United States where Washington, DC has been completely wiped off the map, and the power vacuum lures an array of competing forces. Meanwhile, acerbic narrator Harland is stuck in a job he can't define and a relationship he's not sure he can salvage. When he and his friends get their hands on a mysterious device used by an emerging faction of terrorists, hilarious chaos ensues.
Michigan-based author Ryan Parmenter says that the darkly comic story draws from things he fears. "It's what could easily happen if too many things go unchecked." Much of the comedy in the book derives from extremes and juxtaposition. "Obviously terror in the real world is no laughing matter. But in the book, terror seems to be as much of a concern for the characters as the next round of drinks, or where the next paycheck is coming from. That kind of desperation is not too far-fetched."
Parmenter lives outside of Detroit, a city which has seen many hard times in recent years. "Poverty, a corrupt mayor, abandoned buildings. Sadly, Detroit's dysfunction was an inspiration for the dystopian setting in the book."
Like any good satire, "Hyperbole" twists many real-world elements for its own purposes, but they remain eerily familiar. "Greed, rampant consumerism, and apathy towards fellow human beings--these themes keep popping up in the story because I see it more and more in our culture," Parmenter says. "The constant pursuit of more, always wanting, always trying to outdo. Is this what America is about now?"
The independently-published novel explores philosophical questions about the state of humanity in America, while necessarily using a lot of foul language to do so. The humor throughout "Hyperbole" is not for the faint of heart, but it's a medium that works for the author. "I've got a sick sense of humor," says Parmenter. "But I think there are plenty of readers out there who would enjoy it."
"Hyperbole" is available now in three formats: trade paperback, eBook, and an unabridged audiobook narrated by the author. All formats of the book can be found at Amazon.com, while the audiobook can additionally be found at Audible.com and in the iTunes Store.
You can see the launch trailer for "Hyperbole" on YouTube.
Please visit RyanParmenter.com for more information.