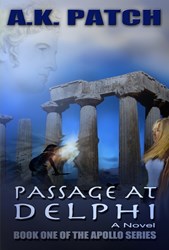 Patch said. "The questions may soon come to be: are we living in such pivotal times? And what may we have to do to survive and pass our way of life to succeeding generations?"
San Diego, CA (PRWEB) November 26, 2013
The United States and other democratic nations have long looked for inspiration to the home of original democracy, Ancient Greece.
What about learning the lessons that led to the fall of the Greek world – a world that has been a highly popular topic among movie makers recently?
In AK Patch's new novel, Passage at Delphi, the stakes for preserving democracy have never been higher – the battle to save our civilization from collapse today.
Passage at Delphi will release to bookstores and online booksellers on Monday, November 25 – in time for the holiday gift-giving season.
The novel follows professors Lauren and Zack Fletcher as they are propelled through a portal at the Temple of Delphi, emerging in the year 480BCE to eyewitness the Greek-Persian War that includes the final Spartan stand. There, Lauren becomes a reluctant heroine, while both try to survive the battles and subsequent hunting down by their archenemy, Persian Commander Bessus.
Unknown to Lauren and Zack, Apollo, the Greek God of Prophecy, orchestrates the entire scenario to prepare the professors with hero training for his grand plan.
"Apollo's goal is to save western culture from a devastating collapse," Patch said. "Thereby, the United States must be secured, or the western world will crumble. His American heroes must be physically able to endure what he has planned, and knowledgeable of the ancient times in which they are tossed into."
Patch, a retired U.S. Navy officer, spent seven years writing Passage at Delphi, which included a number of forays to Greece. An aficionado of classic military stories and strategies, he had long been fascinated by the battle prowess of the Spartans, which have been featured in movies like 300. They are featured in Passage at Delphi as well, but with a noteworthy twist: Lauren and Zack travel from modern-day San Diego to briefly co-exist with the Spartans and Athenians.
"I find the Persian Wars period fascinating, and it could be considered a climactic event in the development and survival of Western culture," Patch said. "The questions may soon come to be: are we living in such pivotal times? And what may we have to do to survive and pass our way of life to succeeding generations?"
Patch's choice of Lauren as the novel's primary hero figure is fascinating. Because women were considered second-class citizens in Ancient Greece, and her modern-day mannerisms, Lauren is regarded by the Spartan warriors as a returning goddess, a being with some superhuman powers. In Apollo's grand scheme, her inner strength is crucial. It creates a strong juxtaposition to the normal picture of Ancient Greece as a source of male hero models.
"Lauren, like a lot of women, has the capability to rise to the occasion," Patch said. "Lauren is not so completely hardened, though. She doesn't realize her strength, and fears separation from Zack. She will endure many physical and psychological battles."
As for Apollo, the mastermind, Patch presents an entirely new face and mission to one of the most popular, symbolized figures among Greek deities.
I see Apollo as a teacher, a benevolent taskmaster," he said. "He has seen the future, even lived it. Greek gods like heroes to carry out their will. People are not hardened by one experience. It takes time, so our heroes must endure and learn before they can be effectual in the great fight that awaits them."
Passage at Delphi is the first book in The Apollo Series. Book 2 is tentatively scheduled for a Summer 2014 release.
Click here for an exclusive interview with Author AK Patch: Ancient Greece & Apollo Come to Life.
For more information, contact Robert Yehling at (917) 826-7880, Hannah Brott at (805) 773-1000, or AK Patch at (619) 850-2340.