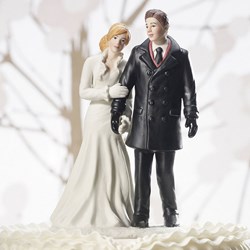 Dunmore, Alberta (PRWEB) November 22, 2013
With over 30 years of experience, Weddingstar Inc. has earned their reputation for 'Putting the Wow in Weddings.' As an expert and innovator in the field, Weddingstar is constantly exceeding the expectations of the market with their expanding lines of wedding accessories and décor. Ready to meet any discerning couples notions of the perfect day, Weddingstar has become an imaginative designer of quality personalized accents and décor for every budget. And, nothing is higher on the list of personalization priorities of most couple's than their wedding cake topper. With expanding custom options, poses and personalities Weddingstar has risen to the needs of their couples by introducing over 10 new wedding cake topper designs this year.
Adding to their line of romantic cake toppers come many new designs to delight a variety of couples. A winter loving couple can celebrate their snowy wedding with the themed cake topper, "Winter Wonderland" that features a bride and groom sporting warm winter coats. For the new generation of bride and groom comes an "Indie-Style" couple, decked out in trendy wedding attire and holding a scroll proclaiming "We Did." And, for the hopeless romantics comes a new classic, "Swept Up In His Arms," where the groom supports his new wife and she rests her hand upon his chest. Best of all, not only do couples get the chance to pick a unique pose or personality for their topper, but they can even go further with their customization as Weddingstar continues to offer the personalization services they have become renowned for. Featuring an array of hair color choices from silver grey to chestnut brown, each topper's hair colors can be hand-painted to even further resemble the happy couple. And, on select releases, such as "Swept Up In His Arms" Weddingstar is also introducing the option to customize the bride's shoe color with 12 fashionable color options from classic black to daiquiri green. They have even introduced a whole new category of cake toppers for the pet lovers with pet cake toppers. Now Fido can have his place beside any couple in real-life and on their cake with five breeds to choose from.
But, Weddingstar hasn't forgotten the more traditional couple either. With the addition of their "White Porcelain Bisque Poppy Blooms" set to their traditional cake topper selection, they offer classic elegance with a little bit of a modern spin. Featuring a set of three different porcelain cast poppies, couples can decorate their wedding cake simply with the beauty of nature. So, no matter what a couple is looking for, Weddingstar is there to meet their needs.
Weddingstar Inc. is one of the world's leading designers, manufactures and retailers of wedding decorations and accessories. Dedicated to providing quality service to brides around the globe, Weddingstar ships to over 100 countries worldwide with distribution points in Europe, North America, Argentina, Australia and Russia. Featuring an ever-expanding selection of bridal accessories with over 3,000 different product offerings, Weddingstar is a one stop destination for every wedding need. With 30 years of experience in the wedding industry and having received numerous business awards, Weddingstar has earned a reputation as the source for 'Putting the Wow into Weddings.' For more information please visit http://www.weddingstar.com.