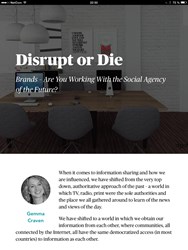 We developed rethink mag to provide a platform for in-depth discussion and perspectives on the latest breakthroughs and developments in SBM
(PRWEB) November 25, 2013
What sets rethink mag apart from the others?
It's simple! Quality and Exclusivity. Imagine articles written on the cutting-edge technology and insight of some of the world's greatest thought-leaders. Imagine leaders from General Electric, LinkedIn, Ford Motor Company, and Edelman Digital providing insight to you and other subscribers on content only available in one place.
Concept Development
The concept of "rethink" first took shape in the summer of 2009 with the idea of building an event where the best thought-leaders from the communication and marketing world join corporate executives at the intersection of ideas and strategies within Social Business Marketing; how a company embraces technology to reach its full potential within the digital age by building loyalty, reputation and customer service while engaging employees, partners, and customers throughout the customer journey.
On October 11, 2011, Arnt Eriksen shared the stage with Tara Hunt, Jacob Morgan and Rohit Bhargava, stepping forward in the first, and now bi-annual, rethink conference; an arena of creativity, knowledge and principles in Social Business Marketing. Attendees share their passion for business and forge connections in this new network whose vision is to create a spark of change, to rethink and optimize each company's online activities.
Arnt Eriksen addresses his vision, "We developed rethink mag to provide a platform for in-depth discussion and perspectives on the latest breakthroughs and developments in SBM. The articles will share the themes from rethink conference—delivering valuable insights into the most essential aspects of SBM. Contributing writers will be respected experts in their fields."
"In this exclusive magazine, we'll bring together the world's pre-eminent thought-leaders, previous rethink conference speakers, and industry insiders in a series of bi-weekly articles available only in rethink mag. I think you'll agree these truly amazing writers have distinguished themselves in their industry. They provide strategic advice to the world's most prestigious brands. Many write amazing content for some of the best business websites on the Internet, and publish their unique perspectives in their own blogs."
With exceptional insight and thought-provoking content, as well as clear physical-print readability, and interactive experiences rethink mag is designed with the executive reader in mind. Arnt and his team have looked at what the new and established business leaders have been looking for and created a magazine exclusively for them.
Availability
Rethink mag is available at the Apple store and soon to be released for Google Play. An annual high-end print magazine covering the year's articles will be sold at the end of each year through select channels and contributing writers.