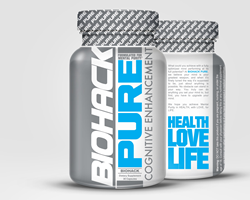 Proper nutrition is definitely one of the keys to dementia prevention.
Houston, Texas (PRWEB) November 26, 2013
With 1 in 3 seniors dying with Alzheimer's or another dementia, the risks of developing a serious age-related cognitive disorder are incredibly high (http://www.alz.org/alzheimers_disease_facts_and_figures.asp). For years, the leading minds in medicine have been trying to determine the reasons why so many people get dementia. Recently, several new reports have been released revealing new, never before known dementia risk factors.
"Understanding the risk factors for dementia is a very important first step to helping prevent this horrible disease and treat it more effectively," said Jonathan Weisman, President at Biohack Nutrition, whose company's flagship product Biohack Pure contains brain supplements some believe are helpful with dementia prevention.
In one recent report, it was revealed that having too much belly fat can increase an individual's risk of developing Alzheimer's or dementia (http://www.huffingtonpost.com/2013/10/09/fat-alzheimers-dementia_n_4072400.html). According to the report, "Middle-aged people with high abdominal fat are 3.6 times as likely to suffer from memory loss and dementia later on in life."
Other recent reports have further examined the link between our dietary habits and dementia. One report claimed that "a poor diet can drastically increase your risk of developing these disorders [dementia and Alzheimer's disease] later in life." (http://voxxi.com/2013/11/04/alzheimers-dementia-eating-habits/)
"We have to be more aware of what we're putting into our bodies," said Weisman. "Fatty foods and sugary drinks are killing us in so many ways, and now it's being discovered that they can increase our risk factors for dementia. Proper nutrition is definitely one of the keys to dementia prevention."
For more information about preventing cognitive decline, visit http://www.BiohackPure.com or connect with the company on Google+.