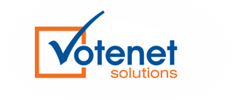 We designed these new features with one goal in mind – to help organizations tap into their social communities to make voting easier and more popular.
Washington, DC (PRWEB) November 22, 2013
Votenet Solutions, the leading provider of online voting and balloting software, announced today the launch of new social media integrations designed to engage an organization's voters through social media and use social pressure to drive voter turnout.
Votenet's new social tools are integrated into the company's eBallot online voting and voting management platform. New features include:

VoteNow Facebook App – Members and eligible voters can login and vote using eBallot's VoteNow Facebook App. This new app puts the entire eBallot process within Facebook so organizations can promote ballots and engage voters directly through Facebook.
Social Sharing – Engaged members can apply social pressure to drive Get Out The Vote (GOTV) efforts for their organizations by promoting their voting engagement and activity ("I voted!") through social media channels including Facebook, Twitter, and LinkedIn.
"We designed these new features with one goal in mind – to help organizations tap into their social communities to make voting easier and more popular," said Votenet CEO Michael Tuteur. "Voting inside Facebook is as social as it gets. And these integrations make it easy for organizations to rally and engage every potential voter through social channels."
Voting administrators can quickly install eBallot's VoteNow Facebook application completely within the eBallot administration portal and once configured, the eBallot Facebook App is added on an organization's Facebook page. Administrators also have the option to customize the app logo that appears at the top of a page's timeline to generate awareness and drive voter engagement.
eBallot's social integrations now automatically prompt voters to promote voting participation through social media including Facebook, Twitter and LinkedIn. Voters choose a default message or can post a personalized status. Voters also can write on the organization's Facebook wall to ignite deeper engagement in the Facebook community. All social shares include a link to the organization's voting portal to drive voter participation.
"Election participation is a social activity," said Menlo College's Dr. Melissa Michelson, a professor of Political Science and noted expert in Get Out the Vote (GOTV) strategies. "Robust scientific research proves that individuals are more likely to vote when they know that their friends have voted, or when they see that many others are doing so."
These new social features are now available to customers using Votenet's eBallot Online Voting Software. For more information or to schedule a demo, visit http://www.votenet.com.
About Votenet Solutions, Inc.
Founded in 2001 Votenet™ Solutions, Inc. is dedicated to its mission of giving everyone a voice and helping everyone make decisions. It is the trusted provider of secure, 360-degree do-it-yourself voting and balloting management software, outsourced voting and election management solutions and customized online voting solutions. Every day, Votenet helps the world's most recognized organizations, communities, and companies collaborate with stakeholders to elect new leaders, make important decisions, and set new policies. It is headquartered in Washington, DC and serves more than 2,000 customers.