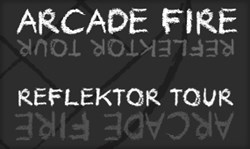 After a backlash surfaced online regarding the dress code, Arcade Fire issued a statement saying that formal attire and costumes were "super not mandatory" and asked people to "please relax."
SOUTH WINDSOR, CT (PRWEB) November 22, 2013
From Indie rock darlings to Grammy-winning juggernaut, Arcade Fire are poised to embark on their first arena tour behind their second consecutive number one album "Reflektor." Arcade Fire tickets and VIP packages which include floor tickets, complimentary beer, wine and appetizers, merchandise and parking at select venues go on sale this Friday, Nov 22. The band has requested that concertgoers observe a dress code by wearing formal attire or a costume. After a backlash surfaced online regarding the dress code, Arcade Fire issued a statement saying that formal attire and costumes were "super not mandatory" and asked people to "please relax." "Reflektor" was inspired by husband and wife band members Win Butler and Régine Chassagne's trip to Haiti where Chassagne's parents were born. The album incorporates Haitian festival music into Arcade Fire's signature sound. The band's last album "The Suburbs" won the Grammy® Award for Album of the Year. Fans can search for Arcade Fire concert tour dates on TicketLiquidator.com.
All trademarks remain property of their respective owners. TicketLiquidator.com does not claim any right or ownership to any of the names contained in this release. These names are strictly used for descriptive purposes and do not imply an endorsement or partnership.
Ticket Liquidator® is a leading online ticket marketplace for tickets to popular live entertainment events throughout the United States and around the world. Since 2003, Ticket Liquidator® has provided ticket buyers with access to a selection of premium event seating inventory that now totals more than $1Billion. With customer service available seven days a week, PCI and SSL security certifications and our Worry-Free 125% Guarantee and Safety Net Program, Ticket Liquidator® ensures that ticket purchases can always be made with confidence.