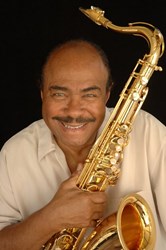 jazz legend, composer, arranger, lyricist, producer and tenor saxophonist...Benny Golson.
Aliso Viejo, CA (PRWEB) November 23, 2013
Soka Performing Arts Center invites you to its Jazz Monsters Benny Golson Tribute, which will take place on Saturday, February 1, 2014 at 3 p.m. and 8 p.m. Tickets can be purchased online at performingarts.soka.edu or by calling 949-480-4278. Prices range from $21 for students and seniors (62+) to $28.
Benny Golson Tribute–Part 1 at 3 p.m features Grammy-nominated singer and pianist KARRIN ALLYSON. Audience members and critics alike are marveling at the range of this extraordinary musician. The Houston Press praises, "If there's a choir in heaven, someday the exquisite vocalist Karrin Allyson will lead it. She's such an otherworldly talent that the creator probably already has her on heavy rotation." Joining Allyson will be PETER SPRAGUE, DUNCAN MOORE and HAMILTON PRICE. Sprague is a critically acclaimed American jazz guitarist, composer, musical arranger and musical transcriber, sound recording engineer, and music producer from North San Diego County. Moore is a San Diego based drummer and percussionist. Price plays double bass, upright bass, contrabass, string bass, doghouse bass, bass viol and bass fiddle, and has recently performed with Kenny Werner and Geoffrey Keezer.
Following that quartet will be the KENNY BARRON TRIO with KENNY BARRON, BUSTER WILLIAMS and ROY MCCURDY. Barron is a pianist, composer and arranger whose unmatched ability to mesmerize audiences with his elegant playing, sensitive melodies and infectious rhythms is what inspired The Los Angeles Times to name him "one of the top jazz pianists in the world" and Jazz Weekly to call him "the most lyrical piano player of our time." Williams is a prodigious artist whose playing knows no limits. Raised and rigorously trained by his father, a bassist, Buster is best known since the 1980s for his solid, dark tone and highly refined technique on the acoustic bass. Drummer McCurdy will probably always be best-known for his important contributions to Cannonball Adderley's Quintet (1965-1975), but he has been a tasteful and stimulating participant in many other sessions through the years. He is currently Adjunct Professor of Jazz Studies at USC Thornton School of Music.
Benny Golson Tribute–Part 2 at 8 p.m. features two legendary jazz musicians. One of jazz's most valuable sidemen BUSTER WILLIAMS, who also plays in Part 1, reflects, "I've served my apprenticeship under many great masters and feel that it's my honor and privilege to carry on the lineage that makes this music such an artistically rich art form." BENNIE MAUPIN is a Detroit, Michigan jazz multireedist who performs on various saxophones, flute, and bass clarinet. He is noted for having a harmonically-advanced improvisation style, while having a different sense of melodic direction than other jazz musicians in this genre. As a composer, he has an ability to create brief melodies and song forms that create vast landscapes for improvisation.
Closing the performance will be the star of the evening, the multitalented and internationally famous jazz legend, composer, arranger, lyricist, producer and tenor saxophonist of world note, BENNY GOLSON. Benny is the only living jazz artist to have written eight standards for jazz repertoire. These jazz standards have found their way into countless recordings internationally over the years and are still being recorded. A performer who consistently knocks audiences off their feet, Benny has given hundreds of performances in the USA, Europe, South America, the Far East and Japan for decades. Joining Golson onstage will be KENNY BARRON, BUSTER WILLIAMS, and ROY MCCURDY.
For more details and ticket information, see http://www.performingarts.soka.edu.
The 1000-seat Soka Performing Arts Center is located at 1 University Drive, Aliso Viejo on the campus of Soka University, a private, non-profit, four-year liberal arts college and graduate program. SUA offers a 9:1 student/faculty ratio and an average class size of 12. The campus was rated in the Top 50 National Liberal Arts Colleges in US News and World Report's "Best Colleges 2014." All undergraduate students participate in a semester of study abroad during their junior year which is included in the tuition. Free tuition is available to eligible admitted students whose annual earned family income is $60,000 or less. The university is open to top students of all nationalities and beliefs and was founded upon the Buddhist principles of peace, human rights and the sanctity of life. About 60% of SUA's students come from the US and 40% have come from 40 other countries. For more information: http://www.soka.edu.