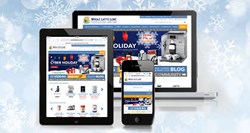 Rochester, NY (PRWEB) November 22, 2013
The redesigned wholelattelove.com is celebrating its launch with an exclusive Cyber Holiday Deal, available to shoppers now - more than a week ahead of Cyber Monday. From today until December 2, coffee and espresso lovers can take an extra 7% off select sale items.
While taking advantage of the early-bird deal, Whole Latte Love invites visitors to explore its new website, redesigned to provide a user-friendly and responsive shopping experience across desktop, laptop, tablet, and mobile platforms. Whole Latte Love has also revamped its popular iDeals feature to offer custom add-ons that complement the main product. When iDeals items are added as a bundle, customers will enjoy discounted pricing. In addition, the new website has an updated Latte Rewards program to let shoppers earn Whole Latte Love rewards, which can be redeemed toward future purchases.
"We've always catered to coffee and espresso enthusiasts," says Tracy Schafer, Director of Sales & Marketing, Whole Latte Love. "We recognize that our customers are busier than ever and have created our new website to allow for hassle-free shopping on the go. The responsive design is perfect for mobile and tablet users."
Please visit wholelattelove.com to learn more.
Whole Latte Love
Founded in 1997, Whole Latte Love is the #1 retailer of espresso machines on the Internet and a noted authority on coffee. http://www.wholelattelove.com is the destination for the latest news, videos, interactive content, and peer-to-peer community for everything coffee. Whole Latte Love represents over 80 international brands and is dedicated to serving the North American market.