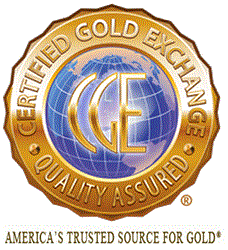 We have used far too much of our time and resources to fix this problem, and we have submitted every contact, help and support form we could find.
Dallas, TX (PRWEB) November 26, 2013
One of North America's most reputable gold dealers is joining the hoards of companies that have grown jaded with search results that give priority to web sites that pay for a higher placement, and company spokesperson Janet Jones says that the company has received overwhelming support from others who believe that it is time for a return to the days when word-of-mouth and reputation reigned supreme. The company announced this week that starting December 2 as much as 50% of funds previously allocated for online marketing will be rerouted to the customer service department, which uses 100% salaried, non-commissioned advisers.
Certified Gold Exchange, Inc. has been a buyer and seller of precious of metals since 1992, and the company has an A+, 0 Complaint rating with the Better Business Bureau. Review sites like Google Places, Yelp and TrustLink show multiple positive reviews for the company with no negative reviews or complaints, yet Jones says the company's online visibility is at risk due to sites that trick the search algorithms or simply pay for the top placement. Jones says a monthly internal report completed this week revealed that a recent change to one search engine's algorithm caused one of the company's web pages to disappear completely, and as of last week the issue was also affecting the company's outgoing email.
"Despite our reputation and the fact that we have never sent out a single spammy, bulk or unsolicited email some search engines throw emails that our clients request into the Spam folder," Jones said, "and we believe that part of the problem has to do with the face that we don't use their paid email application services."
Jones said that despite the company's strict no-spam/no unsolicited email policy, at least one email provider has refused to white-list the company's domain, forcing gold investors to dig through the murky waters of the Spam folder to look for the proverbial needle in the haystack. "Everyone in the company uses this email service and we ran PPC campaigns on its sister company's platform until these issues arose," said Jones, "but they've forced us to start looking at alternative solutions."
"We have already used far too much time and resources on this problem, and we have submitted every contact, help and support form we could find. This is affecting hundreds of business across the United States, as evidenced by the plethora of results that show up when you search for 'get my domain email out of spam folder' and similar terms."
Jones says the company has tried, unsuccessfully, to contact the search engines in question dozens of times and is actively looking for a solution that would eliminate "pay for play" search engines from the company's business model. In the meantime, Jones says, persons interested in buying gold can go directly to the company's web site for an array of complimentary gold investing starter kits.
Certified Gold Exchange, Inc. is one of North America's premier precious metals trading platforms, providing unparalleled service to licensed dealers, institutions, and household investors since 1992. Certified Gold Exchange maintains an A+, Zero Complaint Better Business Bureau rating. For more information or a free "Gold Investor's Guide," visit http://www.certifiedgoldexchange.com or call 1-800-300-0715 today.