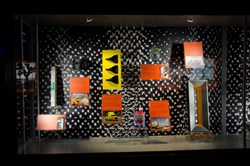 It's great for people to see how entrepreneurs can take a technology and innovate it into something that can help people have a better quality of life
Tampa, FL (PRWEB) November 25, 2013
Thermablok, an aerogel insulation product derived from NASA's aerogel technology is included as a NASA technology spinoff product in the popular Space Shuttle Enterprise exhibit at the Intrepid Sea, Air & Space Museum in New York City. Aerogel, considered the highest insulating material known and one of the lightest solids, was successfully used by NASA for insulation purposes on the space shuttle, Mars Pathfinder and other rovers, and STARDUST spacecraft missions to combat extreme temperature environments.
NASA first recognized Thermablok as a technology spinoff in the space agency's publication titled Spinoff which features innovative products whose development can be linked to NASA. In a standard metal stud wall, adding just ¼ X ½ inch Thermablok aerogel strip to just one edge of each stud before putting the drywall on can result in an amazing 42 percent increase in the overall R-value of the wall (DOE Oak Ridge laboratory test results).
Thermablok is owned by Tampa entrepreneur Lahnie Johnson, who is also the president and founder of Acoustiblok Inc., a leading Tampa based soundproofing manufacturer and seller. Johnson, a veteran of the aerospace industry himself, also owns several other innovative businesses.
Spin-off technologies are offspring commercialized products that have direct roots from NASA funding, research, licensing, facilities, or assistance. While NASA does not manufacture, market or sell commercial products, many commercial products are derived and have been adapted by private industry from NASA technology.
Such is this revolutionary composite aerogel material that is at the core of Thermablok. In buildings or houses, most heat transmission through walls is passed directly through the building envelope, be it masonry, block or stud frame to the internal fascia such as drywall. This process is known as "thermal bridging." Thermablok eliminates such thermal bridging. Thermablok works by breaking this thermal bridging link while being totally breathable, ensuring a healthy, durable working building with a natural ability to repel liquid while allowing the passage and release of moisture vapor.
The ¼ inch thick Thermablok aerogel is available in blanket form on roles or 1.5 X .25 X 54-inch adhesive backed strips. As the metal studs in a wall allows the majority of thermal bridging, Thermablok strips are typically installed on the edge of each stud (one side only), before the drywall is installed. Besides increasing the "R" values of the wall by over 40 percent (regardless of insulation used in the wall), this allows for fast, easy installation without affecting standard construction. There are of course a myriad of other thermal bridging points in a structure that Thermablok can interrupt thermal bridging in.
Improved energy efficiency achieved with Thermablok Aerogel will provide continuing energy cost and environmental savings. As an example, adding Thermablok Aerogel to a 787 square-feet residential home with 16 inches on center framing, R13 cavity insulation, and wood siding should result in a $783 dollar annual energy cost savings and eliminate 3.9 tons of CO2 emissions.
In order to better understand how and why Thermablok is so effective, it's important to first understand aerogels. Resembling a hologram, it's deceiving whether aerogels are really there or not. Aerogel is a synthetic porous ultralight material derived from a gel, in which the liquid component of the gel has been replaced with a gas. The result is a solid with extremely low density and low thermal conductivity. Aerogel is a diverse class of ultralow density solids that combine multiple disparate and extreme materials properties into a single material envelope. Discovered in 1931, the original aerogel was silica based. These are often referred to as classic or legacy aerogels, or just "aerogel." Mixed with silicon dioxide and solvent, aerogel is 99.8 percent air, and is 1,000 times less dense than glass. Despite weighing only 3 milligrams per cubic centimeter, aerogel can support up to "4,000" times its own weight if the force is gently and uniformly applied. Aerogel can also withstand high temperatures, so much so that placing crayons on top of the aerogel are protected from a flame underneath and will not melt. Some types of aerogel, including composite aerogel, provide 39 times more insulation than fiberglass.
In terms of aerogel's physical appearance, aerogels are sometimes referred to as "frozen smoke," "solid smoke," "solid air" or "blue smoke" because of the material's translucent nature and the way light scatters in it. The substance has been described as feeling like volcanic glass pumice; a very fine, dry sponge; and extremely lightweight polystyrene (Styrofoam). When you hold a piece of silica aerogel, it feels otherworldly.
The remarkable characteristics of silica aerogel—low density, light weight, and unmatched insulating capability—attracted NASA for cryogenic insulation for space shuttle and space exploration mission applications.
"Many people in the building industry and homeowners are unaware of aerogel technology and benefits over standard fiberglass insulation. We've been trying to tell people about our product for the past few years. Changing consumer habits and making them knowledgeable on new products is difficult, time-consuming and expensive," said Johnson.
"We need the help of the residential and commercial building industry to help spread the word about modern day building materials like Thermablok."
"NASA took aerogels to the next level, beyond what was previously imagined, and uncovered a world of possibilities for this versatile material. At Thermablok, we are taking building insulation to the next level. We have been working hard to help people understand the advantages of having this high-tech space age material in their homes and in commercial buildings."
"I'm very proud to have Thermablok included in the Space Shuttle Enterprise exhibit at the Intrepid Sea, Air, & Space Museum. It's great for people to see how entrepreneurs can take a technology and innovate it into something that can help people have a better quality of life," Johnson concluded.
The Intrepid Sea, Air & Space Museum is home to the Space Shuttle Pavilion, which features Enterprise, NASA's first space shuttle that paved the way for America's successful Space Shuttle Program. Opened in 1982, the Intrepid Museum is the only museum where visitors can explore a legendary aircraft carrier, the first space shuttle, the world's fastest jets and a guided missile submarine.
About Thermablok and Acoustiblok Inc.
Thermablok was developed by the international acoustical research company Acoustiblok, Inc., to meet a real need to apply aerogel technology in residential and commercial insulating material. Lahnie Johnson, president and founder of Thermablok and its parent company Acoustiblok, Inc., is proud to focus research and product manufacturing resources on environmentally important projects for the worldwide community. More information about Thermablok can be found at: http://www.Thermablok.com
Acoustiblok Inc., a NASA Spin-off listed company headquartered in Tampa, FL, provides acoustical soundproofing solutions for noise related issues. The company develops, manufactures, and markets acoustical products around the world, earning the industry's highest ratings from architects, builders, and consumers.
Primary products include Acoustiblok® viscoelastic polymer based soundproofing material, Acoustifence® outdoor noise barrier, All Weather Sound Panels®, QuietFiber® insulating material, Quiet-Cloud® industrial sound absorption panels, Acoustiblok WALLCOVER®, and Thermablok® aerogel nanotechnology insulation. Acoustiblok products are used in industrial, residential, commercial, and marine sectors worldwide. The company's products are made and sourced in the United States.
About NASA
http://www.nasa.gov
Video About Aerogels
http://www.aerogel.com/markets/building.html
About the Intrepid Sea, Air & Space Museum
The Intrepid Sea, Air & Space Museum is a non-profit, educational institution featuring the legendary aircraft carrier Intrepid, the space shuttle Enterprise, the world's fastest jets and a guided missile submarine. Through exhibitions, educational programming and the foremost collection of technologically groundbreaking aircraft and vessels, visitors of all ages and abilities are taken on an interactive journey through history to learn about American innovation and bravery.
The Intrepid Museum fulfills its mission to honor our heroes, educate the public and inspire our youth by connecting them to history through hands-on exploration while bridging the future by inspiring innovation. Connect with us on Facebook, Twitter and YouTube.
MORE ABOUT AEROGELS
http://www.nasa.gov/topics/technology/features/aerogels.html#.UpNocWTSOaM