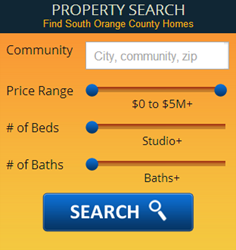 Real estate is fast moving and buyers, sellers and renters alike want immediate answers and information. We live in a 'now' world, and companies that are not easily accessible 'on the run' will be left in the dust
Coto de Caza, CA (PRWEB) November 26, 2013
Orange County, CA -- Top Orange County Realtor® James Hoff of Keller Williams today announced the launch of a new website at http://www.jameshoffrealty.com. The new site offers up-to-date listings on the best in Orange County property, easily accessed from notebooks and smartphones.
Designed to allow buyers and sellers to explore the market and search for exactly what they want, faster than ever, the dynamic site features easy navigation, a state-of-the-art search function and is optimized for mobile and notebook users on the go.
"Real estate is fast moving and buyers, sellers and renters alike want immediate answers and information. We live in a 'now' world, and companies that are not easily accessible 'on the run' will be left in the dust," Hoff said. "Too many Realtors' sites are difficult to navigate and make prospects dig for simple but important information. Search function is everything and should be front and center. This new site offers that."
In addition to quick search, homeowners, sellers, buyers and renters will find active listings, market data, tables and charts, helpful articles and tips on navigating the present housing market to name just a few of the many additional features. James also makes himself easily accessible to those who prefer to speak to him directly by providing multiple ways to reach out from the site including, but not limited to, his personal cell phone number.
James Hoff's team currently ranks #1 in Keller Williams Mission Viejo, #2 of nearly 80,000 Keller Williams agents and teams internationally, and currently sits comfortably in the top 3 of more than 20,000 Orange County Realtors® from all brokerages.
For the most current Orange County home listings and information on the market, visit http://www.jameshoffrealty.com and join our Facebook community at http://www.facebook.com/LiveInSoCal.
About James Hoff:
Leading Southern California Realtor® James Hoff recently closed his 12th side in less than one year. Hoff has been in the sales arena for more than ten years, having worked for companies including New Balance, DHL and Callaway Golf.
James' current team includes an in-house Contract Manager, Transaction Coordinator and Marketing Department that allows him to focus his attention in the field networking with clients, selling homes and remaining in front of and up to date on the current market conditions.
Leveraging the power of a national network, Hoff plans to assist with closing deals in his local market as well as on vacation homes, rental properties and more while connecting with Realtors® across the country to create positive business partnerships.