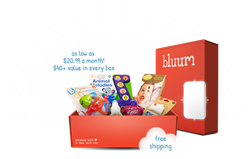 We are very excited to launch Bluum.com on the CJ Network. This new offering will be great for affiliates and web publishers to increase revenue with their website, blogs, email databases, and social networking accounts.
Fort Lauderdale, FL (PRWEB) November 21, 2013
Experience Advertising, Inc., a full service online marketing agency, has announced the launch of the Bluum.com affiliate program on the Commission Junction (CJ) affiliate network. Affiliate marketers and web publishers will now be able to refer website visitors to Bluum.com via CJ.com's tracking links and banner ads, and earn a referral commission when a customer joins as a member.
Bluum.com has a team of expert m.o.m.'s (managers of merchandising) who spend their days trying new products, meeting and getting to know brands. It's their mission to evaluate whether a brand is a good fit to join the lineup of Bluum's products. Doing that, the team applies hard criteria to make sure they only send responsibly sourced, free of dangerous chemicals, and in most cases organically manufactured products that are healthy for baby and mom. Bluum currently works with more than 350 brands and over 1,000 different products. Boxes have a value of $40 or more and contain 5 or more full-size products. The age range begins with the pregnancy line where products are covering the life of a soon-to-be mom and a few items for the growing child. The baby line covers monthly boxes from newborn to 12 months. Toddlers range from 13 to 36 months and are followed by pre-K and preschool boxes for children all the way up to 5 years. Plus, there are always one or two surprises for mom, too! Each box is individually curated for each subscriber and packed by hand in Connecticut. All materials are sourced in the U.S.A.
Commission Junction is the leading global affiliate marketing network, specializing in pay-for-performance programs that drive results for businesses around the world. The CJ Network helps to reach and connect with millions of online consumers every day by facilitating productive partnerships between advertisers and publishers. Sebastian Reichelt, Co-Founder/COO at Bluum.com, stated, "We are very excited to leverage the CJ affiliate network and the affiliate management experts at Experience Advertising, Inc. to grow our affiliate program in 2014 and beyond."
Experience Advertising, Inc. is a leading affiliate marketing agency that specializes in recruiting affiliate marketers and increasing sales through the affiliate marketing channel. CEO Evan Weber stated, "We are very excited to launch Bluum.com on the CJ Network. This new offering will be great for affiliates and web publishers to increase revenue with their website, blogs, email databases, and social networking accounts."
New CJ affiliate/publishers can apply to become a web publisher with Bluum.com here:
https://signup.cj.com/member/brandedPublisherSignUp.do?air_refmerchantid=4022687