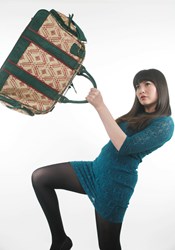 This is a once a season sale. And it only lasts 4 days... or until we sell out of an item.
Los Angeles, CA (PRWEB) November 26, 2013
amykathryn announces their biannual online sample sale starting Tuesday, November 26th through Friday, November 29th. This huge sale includes every item from the Fall/Winter 2013 Collection, until items sell out.
amykathryn creates unique handbags sold in boutiques worldwide. They are known for their custom printed textiles incorporated into the original handbag designs. The color combinations amykathryn uses really sets the brand apart.
"This is the first time in 17 seasons of designing handbags that I've used black faux leathers. Black is great and really looks good combining them with cream this season. But I can't help myself with color so I also did a few bags in emerald combined with dark rouge," says Amy Hall, designer. That color combination can be risky, but has proven to work well in this collection.
amykathryn handbags are oversize and always have lots of pockets and zippers. The majorly discounted sale of 50% off everything will be a smash, while supplies last. To get the 50% off your entire order, use coupon code AMYK50 upon checkout. http://www.amykathryn.com
amykathryn has been Animal-Friendly and Eco-Conscious since 2005.