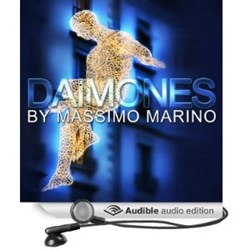 #1 in First Contact #2 in Apocalypses, #3 in Dystopia
(PRWEB) November 23, 2013
SciFi Publishing is pleased to announce its newest scifi audiobook, "Daimones," written by bestselling author Massimo Marino; now available on Amazon, Audible and iTunes. http://amzn.to/I3ftKF
About Daimones
Dan Amenta wakes up one morning to discover the world has changed... the Apocalypse has arrived. Death, destruction, and disaster are spreading around the globe. Yet Dan and his family remain untouched. He begins to fear they are the only three people left alive on Earth. They are not.
Efforts to survive and make contact with others reveal disturbing truths about the human extermination. Dan finds Laura who discloses even more. Her presence - a young, sexy, disruptive girl - adds questions about what is moral and ethical in this new reality.
Then supernatural experiences reported by other survivors force Dan to seek explanations from his own past. Memories of childhood hallucinations strike him with sledgehammer force, bringing him face-to-face with a secret millions of years old. Planet Earth is in the hands of an older power, one Dan never envisioned and dares not disobey. "Even with the best of intentions, cruelty is just around the corner."
What People are Saying
5.0 out of 5 stars "Blown Away! The mystery that drives the story is so compelling."
5.0 out of 5 stars "A great twist to the apocalypse genre that had me jumping right in to the 2nd book!"
5.0 out of 5 stars "What a great book! It captured me from the beginning to end!"
5.0 out of 5 stars "I can see why it has won awards!"
5.0 out of 5 stars "Thought provoking!"
5.0 out of 5 stars "Gripping and challenging."
Accolades for Daimones:
"Daimones" is the recipient of the 2012 PRG Award Reviewers' Choice in Science Fiction, and the Seal of Excellence in Quality Writing from both the Awesome Indies (awesomeindies.net) and the indiePENdents.org association.
In September 2013, "Daimones" won the Hall of Fame - Best in Science Fiction Award, shortlisted by the Quality Reads UK Book Club. http://www.orangeberrybooktours.com/expo/2013/08/best-science-fiction/
Daimones has been ranked:
#1 in Aliens First Contact
#2 in End of the World, behind "The Road" and in front of "The Stand"
#3 in Apocalypses and Distopia, behind "The Stand" and in front of "The Hunger Games"
in Goodreads Listopia
About the Author
Massimo Marino comes from a scientist background: He spent years at CERN and The Lawrence Berkeley Lab followed by lead positions with Apple, Inc. and the World Economic Forum. He is also co-founder of a consulting company focusing on Big Data Analytics: Squares on Blue. Massimo currently lives in France and crosses the border with Switzerland multiple times daily, although he is no smuggler. Feel free to connect with him at http://massimomarinoauthor.com.
About Sci-Fi Publishing
Sci-Fi Publishing enables authors to bring their work to life, creating powerful audiobooks for Sci-Fi fans. We partner with authors from audiobook production to marketing so they can continue to focus on their passion, creating new and amazing worlds.
For more information about us and to discover other great scifi audiobooks, visit us at either http://www.scifi-publishing.com or http://www.scifi-audiobooks.com.