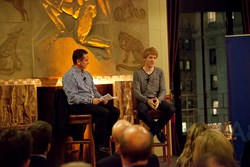 San Francisco, Ca. (PRWEB) November 22, 2013
A&L Goodbody (http://www.algoodbody.com), one of Ireland's leading law firms, has chosen San Francisco for its latest U.S. location, having set up in New York in the 70's and Palo Alto two years ago. In doing so it becomes the first Irish law firm to establish in downtown San Francisco. A&L Goodbody's entry into the City was announced at the City Club of San Francisco Wednesday night, where members of the firm were joined by over 200 clients and advisors. The evening's main attraction was a fireside conversation with one of their key clients in the Bay Area, Patrick Collison, founder of San Francisco-based Stripe, Inc. (https://stripe.com), one of the hottest new companies in San Francisco, with a focus on online payments, and backed by, among others, Peter Thiel of Paypal and Sequoia Capital (backers of Apple). Patrick Collison (24) and his brother John (22) originally from Limerick, have recently chosen Ireland and the UK to launch their international expansion from their already impressive footprint in the US.
"San Francisco is the financial capital of the West Coast. Our thriving Irish legal business out of California, which began in Palo Alto, very simply warranted a move to the City to bring it to the next level," said A&L Goodbody Resident Partner John Whelan, who leads the firm's International Technology Practice and is the head of the San Francisco office. "Our practice is Irish law and helping the many US firms here, doing their "non-US" business, and in particular their European business, through Ireland. The welcome we have received for the new office has been overwhelming. In tech, after San Francisco, Ireland is seen as the next go to place for talent. Companies talk about their expansion from Silicon Valley to the Silicon Docks in Dublin."
Stripe's Patrick Collison commented: "The Bay Area remains the hub of activity for entrepreneurs. It's exciting here. I was at the Web Summit in Dublin a few weeks ago, and Dublin is the happening place in Europe for tech, maybe followed by Berlin. The corridor between the West Coast of America and Ireland is facilitating and driving cross border investment and entrepreneurial activity. It is great to see a firm like A&L Goodbody open an office in San Francisco to develop and build the bridge between the Valley and the huge talent that continues to come out of Ireland."
About A&L Goodbody:
A&L Goodbody is one of Ireland's leading law firms. It is the only Irish law firm to have three offices in the U.S., New York, San Francisco and Palo Alto, and has provided Irish legal advice to more than 600 U.S. and other international corporations and their advisors in relation to their business interests in Ireland and Europe. The firm has over 400 legal staff and a headcount of approximately 600 from offices in Dublin, Belfast, London, New York, San Francisco and Palo Alto. For information please visit http://www.algoodbody.com/San_Francisco