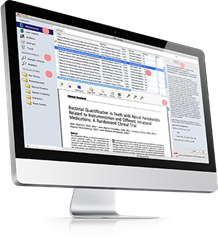 PDF Stacks is a solid PDF organizer, and may be a good fit for professionals trying to swim through a sea of documents. – PCWorld review
Reno, NV (PRWEB) November 29, 2013
Many people and business firms find that they have PDF files scattered in too many places and folders on their computers and are spending too much time trying to locate a document. PDF Stacks is the answer, consisting of a simple, uncomplicated user interface designed to consolidate and help manage a collection of PDF documents without any real effort. PDF Stacks makes it easy to import, find, read, annotate, print and search PDF files instantly. PDF Stacks enables people to organize, tag, print, make notes, and share their PDF's on either Mac or Windows devices. A compatible interface working on all operating systems including the latest MAC Mavericks OSX 10.9 and Windows 8 platforms seamlessly, it is extremely user friendly and indispensable for anybody using PDF files on a daily basis.
About PDF Stacks:
PDF Stacks was created after noticing how people, businesses and research firms spent hours trying to locate, open Adobe Acrobat PDF documents and then search for the content required inside. PDF files are the most used file format being created, stored, converted and shared and are so ubiquitous in today's professional environments. Millions of people use PDF files for their businesses, academics and other purposes to create, store and exchange documents. Whether an individual is downloading or amassing documents, ebooks, manuals, research papers or monthly bank statements, chances are that all these paperless documents are available as Adobe PDF files. It is not surprising for people to have thousands of PDF files and PDF ebooks stashed in disarray on their computers, laptops and tablets. People will need a software which will effortlessly organize, store, archive, manage and retrieve their PDF files.
"We created PDF Stacks when we noticed how long it took us to find a single PDF on our computer. Whether someone is trying to prepare a research paper in school or a legal brief in a law office, an accountant needs to find a financial document or invoice, or a doctor needs to find the latest study about an illness, PDF Stacks makes it very simple to find the document that you need, preview the document and share it with others." – David Lee, PDF Stacks
Benefits of using PDF Stacks:

Saves precious amounts of time by organizing PDF files
Increases productivity and workflow for lawyers, doctors, accountants, researchers, teachers and any other individuals and professionals managing PDF files
Instantly open PDF documents and integrated PDF Viewer for paperless reading
Searches your PDF library to instantly find documents by keywords and show where they are within the document
Organizes your life
Award winning application compatible with MAC and Windows
This application is simple to use and allows the user the flexibility to sort and store their PDFs in the ways that best suit their needs. In professional environments, including law offices, doctors' offices and research facilities, the reliance on PDFs as a document storage method is universal. PDF Stacks is the ideal PDF software as it makes it simple to find exactly the document needed. Once it is located, notes can be written on it, it can be shared and printed all from the ease of a single computer program.
"PDF Stacks is a solid PDF organizer, and may be a good fit for professionals trying to swim through a sea of documents." – PCWorld review
PDF Stacks is a computer program designed to make it easy to find, annotate, send and print the PDF files that are so ubiquitous in today's professional environments. PDF Stacks provides a free 15 day fully functional trial to show users and businesses how easily their PDFs can be organized and manipulated with their document management system. More information is available at http://www.PDFstacks.com