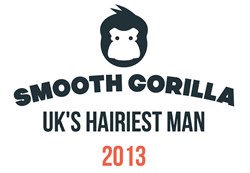 Smooth Gorilla is on the lookout for the UK's hairiest man, and when they find him, he will be featured in a demonstration video to show the world just how great their product is. To enter, visit: www.smooth-gorilla.com/competition
London, UK (PRWEB UK) 22 November 2013
Not all gorillas live in the jungle. In fact, you may just have one living next door. Whilst your neighbour may seem perfectly normal, when the clothes come off, what's on his manscape can take 'hairy' to the extreme.
For those who have so much body hair that nieces and nephews often choose to climb on, grab a handful and ride them instead of the dog, Smooth Gorilla has a hair-raising proposition. They are currently on the lookout for the UK's hairiest man, and when they find him, he will be featured in a demonstration video to show the world just how great their product is. To enter, visit: http://www.smooth-gorilla.com/competition.
Many men are embarrassed about body hair, but aren't sure how to get rid of it. Sure, shaving is always an option, but it can be time consuming and it's all too easy to miss a patch . . . or two. Waxing is another option, but it can be extremely painful; many men consider it not worth the effort.
Smooth Gorilla think they have come up with the perfect solution. In just minutes, men can use their system to painlessly and effortlessly remove unwanted back hair. After all, it's not just women who like a smooth, groomed look. Men like it too!
Company founder, Anthony Cooper, stated, "Let's be honest, to many, back hair on a man is about as attractive as hairy legs on a woman. The problem is, whilst legs are easy to reach and shave, backs are harder to get to. Our system is a convenient, do-it-yourself solution that anyone can use, and we're on the hunt for the UK's hairiest man so we can show you just how easy it is to clear the manscape of unwanted scenery."
Notes to Editors:
You have full permission to rewrite this article and feature it online/offline. For photography, high-res images, or interviews - please contact using the details below.
Contact Name and Position: Anthony Cooper - Founder
Company: Smooth Gorilla
Website: http://www.Smooth-Gorilla.com
Email: anthony(at)smooth-gorilla(dot)com
Agency: Marketing Empire PR. info(at)marketingempire(dot)co(dot)uk