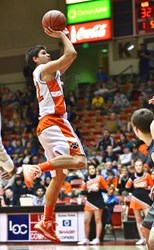 Mt. Pleasant, Utah (PRWEB) November 22, 2013
After being recruited by several colleges and universities, Wasatch Academy's all-state basketball player and state tournament MVP Geno Luzcando (lew-SKAWN-doe) has officially signed a letter of intent with Idaho State. Luzcando's career stats are impressive, landing the international boarding school the 2A state title last season.
Opposing coaches described Luzcando as one of the most athletic players in the state who has caused significant match-up problems.
Last year, the 6'3" shooting guard averaged 12.6 points, 5.3 rebounds, 4 assists and 4 steals per game. Luzcando is from Chile. He came to Wasatch Academy, a college prep boarding school located in Mt. Pleasant, Utah, in 2012.
During the high school off-season, Luzcando plays with the Utah-based AAU Pump N Run program.