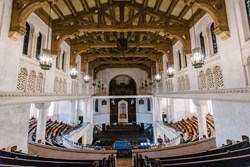 Working with Visioneering allowed us to take our vision and see it come to life.
Los Angeles, Cal. (PRWEB) November 25, 2013
The 1920s-era building across from the Wilshire and Normandie Metro subway station in LA's Koreatown has been a church for almost 100 years, but Visioneering Studios' recent "design intervention" and thoughtful renovations have made it the perfect new home for Oasis Church, which held its first services there on August 4.
Oasis partnered with Visioneering 18 months ago to begin dreaming and planning about the best approach to updating the historic building, formerly home of the 2,500 seat Wilshire Christian Church. Developed as part of the historic Chapman Park neighborhood near such Hollywood icons as the Ambassador Hotel, the Brown Derby, and the Coconut Grove, the church is a Romanesque landmark in central Los Angeles. Visioneering's challenge was to create a flexible modern space while maintaining the best of the original building.
"This sacred space was at the shopping, dining, and entertainment heart of the city during LA and Wilshire's most glamorous days. It now sits across a Metro station on LA's busiest street in its densest neighborhood. Breathing life into dead bones and seeing the beauty in one of the most diverse faith communities in the world flow in and out through the sidewalks of Wilshire was one of the most rewarding experiences in my career," says Disney veteran and Visioneering President Mel McGowan. "It tasted a little bit like Heaven, where all things are made new, including the City of Angels."
Numerous challenges faced Oasis Church and Visioneering as the Design-Builder. Once historic and infrastructure issues were resolved, construction began in April. The plan included a larger temporary stage; new truss system; new plumbing fixtures, tile and mirrors in the restrooms; and a mechanical cooling upgrade including a large 22' fan delicately attached from the roof truss. Other challenges included the need for off-site parking and careful adjustments for handicap accessibility. Due to the zero lot line and minimal staging areas, Visioneering used a helicopter to set the HVAC units, requiring special permission from another country -- the church's next door neighbor, the Indonesian Consulate.
"Working with Visioneering allowed us to take our vision and see it come to life," states Chad Galbreath, Associate Pastor at Oasis Church in Los Angeles. "We had done previous smaller renovations in the past but lacked the ability internally to create a vision for the whole church and see that executed within phases. By partnering with Visioneering we have been able to successfully complete phase #1 and also know that we are building towards our ultimate vision. We look forward to future phases with Visioneering and seeing our whole vision realized."
An adjacent three-story 1950's building was converted Oasis Studios, a colorful children's learning environment themed as a movie lot run by animals, and phase 1 included a complete renovation of the second floor for kids from nursery through preschool. Phase 2 is set to include the renovation of floors 1 and 3.
# # #
About Visioneering Studios:
Visioneering Studios is a leading global Envision.Design.Build company, with offices in LA, Denver, Austin, Nashville, and Charlotte. It was founded in order to develop destinations that lift the spirit. Its leaders include former Principals of Disney, AECOM (the world's largest design & engineering firm), Universal Creative, Lennar Urban, HOK, RNL, Gensler and HNTB. Visioneering Studios was honored as the 2008/9/10/2011 Solomon Awards "Best Church Architect" and recently was named 2012 "Best Contractor." More information is available at http://www.visioneeringstudios.com.