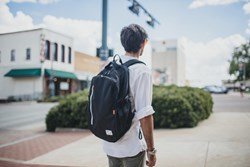 We've made it easy for people to have a great backpack, and help the world.
Chicago, IL (PRWEB) November 26, 2013
The popular "buy one, give one" (or "one for one") business model that is designed to help those in poverty around the world needs to be abolished in its present form - or it will continue having a negative impact on the local communities it aims to support.
So says Chris Bahr, entrepreneur and advocate for the world's poor, who has been traveling abroad on humanitarian missions with family members since 2006. Bahr has launched Just Porter, LLC (http://www.justporter.org) to produce backpacks with higher quality and sleeker designs than the usual bags. In addition, Just Porter's giving program is dramatically different than other B1G1 companies. Their initiative focuses on providing real economic opportunity and enhancing the education of children in impoverished areas of the world.
Bahr developed this concept while on a mission in the Philippines with his wife and children.
"A major criticism of the buy-one-give-one model has been that just 'parachuting' goods into a poverty-stricken area can be destructive to the local businesses - and it doesn't help create a real solution. The ripple effect can be lost jobs to an already poor community," said Bahr. "Therefore, everything we do is focused on creating economic opportunity and enhancing education. By using local materials and local vendors whenever possible, we create jobs. And by giving out school supplies with the backpacks, we find that children are engaged, inspired, and spend more time in school."
"Our business model, that we've developed over the last two years, is being validated and championed by companies like TOMS shoes. We strongly encourage all other B1G1 companies to join us and strive to enhance the local economies in the areas they support, rather than detract from them."
Because more than 80 percent of all the backpacks in the market are made by just two companies, the same designs and features are often recycled over and over. As a result, the Just Porter team has set out to reinvent the backpack and perfect their designs – with styles specifically created for travelers, students, and business professionals.
Just Porter backpacks have features normally found only on bags that cost hundreds of dollars. They include: zippers that glide and don't catch, fabrics resistant to harsh treatment, an "instant pocket" for essential items (keys, cell phone, etc.), and more. In addition, some styles are designed with buckles that utilize a system of magnets for safe and secure fastening, as well as easy access.
In 2012 during a trip to the Philippines, Bahr and his team had backpacks manufactured locally and gave them away, filled with locally purchased, grade-appropriate school supplies to more than 1,000 needy children.
Just Porter is currently seeking public support to help make production of its backpacks a reality. Bahr said the Just Porter backpack designs, as well as the overall mission of the company, have been well-received thus far. For more information on the funding campaign, visit Kickstarter.
About Just Porter, LLC
Just Porter (http://www.justporter.org) is reinventing what the backpack should be for students, professionals and adventurers alike. What results are premium, handcrafted backpacks with rugged construction and an enhanced design, centered around an active person's busy lifestyle.
Those who purchase Just Porter backpacks will also be supporting the education of the world's poorest children. For every bag ordered, the company will provide another backpack filled with grade-appropriate school supplies for a child in poverty. And just as important, Just Porter's initiative is designed specifically to enhance the local economy and create jobs in these areas.