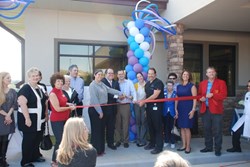 Houston, Texas (PRWEB) November 22, 2013
Victory Healthcare welcomes the Previty Clinic for Surgical Care to its East Houston hospital. Previty Clinic provides the latest innovative procedures in general, advanced laparoscopic, acute care and cancer surgery.
Previty Clinic's team of highly trained and specialized physicians will practice at the Victory facility located on I-10 in East Houston. The team is led by Texas native, Dr. Garrett Peel, who serves as the CEO and President of Previty.
"Victory is committed to delivering first class care to our patients and communities that is why we are proud to welcome Dr. Peel and his team of world-class physicians to southeast Harris County, allowing more patients to receive care closer to home," says Michael Urbach, President and Chief Operating Officer of Victory Healthcare. "We are honored to have formed this relationship as we continue our mission to create a new standard in surgical care."
"In healthcare, it is very important to have strong partners and I want to acknowledge the partnership that we have with Victory Healthcare, the healthcare system that brings technological advances, innovation, and one-on-one nursing care across the state," said Dr. Peel. "We are excited to bring our innovative procedures to Victory, including the Skin and Nipple-sparing mastectomy, which is performed by only a handful of physicians in the country."
Previty Clinic opened its new location at 5030 Crenshaw Road in Pasadena, Texas on November 19, 2013 with three additional locations throughout southeast Texas. Below is a brief summary of the surgeons leading the effort at Previty:
Dr. Garrett K. Peel, MD, MHS

Mayo Clinic Trained
Modern Breast Cancer Surgery
3-D Advanced Laparoscopic Surgery
Graduate of Johns Hopkins and George Washington University
Dr. Elliot C. Maness, DO

Michigan State University Trained General Surgeon
Minimally invasive endoscopic surgeon
Graduate of College Osteopathic Medicine and Health Sciences, Iowa
Fellow, American Society of Abdominal Surgeons
Dr. Keli J. McCalman, DO

Michigan State University Trained
Fellowship in Metabolic Bariatric Surgery
Advanced Laparoscopic Surgery
Graduate of the University of North Texas Health Science Center
Dr. Christopher A. Timmons, MD

Advanced Foregut and Gastrointestinal Laparoscopic Surgery
Modern Colon and Rectal Cancer Surgery
University of New Mexico and Vanderbilt University Trained
Dr. Maria A. Palafox, MD

Fellowship in Trauma Surgery and Critical Care
Modern Breast Cancer and Advanced Laparoscopic Surgery
Graduate of Massachusetts Institute of Technology
Victory Surgical Hospital East Houston opened its doors just over a year ago and specializes in Bariatric Surgery, Ear, Nose, and Throat, Gastroenterology, General Surgery, Gynecology, Hand Surgery, Joint Replacement, Orthopedic Surgery, Pain Management, Plastic Surgery, Podiatry, Spinal Surgery, Sports Medicine and Urology.
As in other Victory Healthcare facilities, patients at Victory Surgical Hospital East Houston enjoy personalized care and attention, including one-on-one nursing, in private patient suites, all of which offer Wi-Fi Internet connectivity, gourmet food and the ability to comfortably accommodate family and friends.
About Victory Healthcare
Based in The Woodlands, Texas, privately owned Victory Healthcare is creating the standard in surgical care through its growing network of specialized surgical hospitals, training and education centers, and the only privately held tissue bank in the state of Texas. Our surgeons are the most highly trained and respected physicians in their fields, committed to providing revolutionary technology and minimally invasive treatment techniques. We create a first class experience for our patients in our state-of-the-art facilities that include concierge services, a one-to-one nurse to patient ratio, and personalized service in an environment designed to promote comfort and healing. Victory Healthcare partners with physicians to create an exceptional surgical experience for our patients, their families, and our surgeons. Learn more about the Victory Difference – a dedication to healing through education, technology and first-class care - at victory-healthcare.com or follow us on Facebook.
About Victory Surgical Center East Houston
Victory Surgical Center East Houston is a private surgical hospital that provides leading-edge technology and superior personalized care from the region's top physicians. Patients will experience the Victory Difference - a dedication to healing through education, technology and first-class care – at any one of Victory Healthcare's surgical hospitals. At Victory Surgical Hospital East Houston, patients will receive first-class care including a dedicated nurse, private patient suites, and luxury amenities such as gourmet food, Wi-Fi, high quality linens and convenient front door parking. Victory Healthcare operates in partnership with our physicians to create a new standard of surgical care. For more information, visit us at http://victory-healthcare.com/easthouston/ or follow us on Facebook.