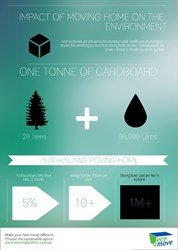 There are over 1 million cardboard boxes used to move home each year in Australia.
Melbourne, Victoria (PRWEB) December 17, 2013
Most people move many times in their lifetime. In fact, one in every 20 Australians changes their residential address each year. According to an ABS survey in 2011, 64% of people in the 20 and 40 year age group moved at least once in the previous five years. So a potential move could be in your not-too-distant future.
Cardboard moving boxes have mainly been used for transporting possessions from one location to another – whether they are personal or business items.
The American EPA has produced a hierarchy of environmental impacts of different methods of packaging disposal.
Their least preferred methods are incineration and dumping as landfill.
While incineration releases energy that can be captured and used in the virgin and recycled paper and cardboard production processes, it also releases carbon dioxide into the atmosphere. Dumping in landfill produces gas pollution that affect all humans, animals and indeed, entire ecosystems. The main landfill gas types are methane and carbon dioxide – both of which are significant greenhouse gases that trap the heat of the sun in the atmosphere. While the volume of carbon dioxide released from landfill greatly exceeds methane production, methane has a greenhouse factor 30 times higher than that of carbon dioxide.
Incineration and landfill disposal of cardboard boxes both mean that their replacement will require new paper pulp (which consumes forests estimated to be 20 fully-grown trees to produce one tonne of paper), energy and up to 90,000 litres of water to produce one tonne of product). A better alternative is to use recycled paper pulp wherever possible in the box-making process.
EPA of USA places recycling and composting higher up its preference scale. Recycling of cardboard requires little water and just only half the energy needed in the remanufacturing process. There is a ready market for cardboard destined for recycling with over 90% of business to business corrugated boxes being recycled in 2011. Carbon dioxide is generated and released in all the recycling stages.
Their most preferred approaches involve "source reduction" and reuse. Source reduction entails reducing the volume of materials produced and "the harmful environmental effects associated with producing and disposing of them". The most relevant strategies for the purposes of this article are increasing the useful life of a product life through durability and repairability". Sadly, cardboard moving boxes offer neither of these properties.
This leaves "Reuse" as the optimal environmental waste control strategy for moving boxes. Hired reusable plastic moving boxes are cost-effective and convenient - they eliminate the need to dissemble or breakup the boxes. They also give you peace-of-mind that are doing something positive to save the planet.
EcoMove is a Melbourne-based hirer of engineered, reusable plastic moving boxes with all the qualities described above. They deliver the boxes you need for your shift to your door and collect them, when empty, at the end of your hiring term. EcoMove, powering Moving Box Hire.