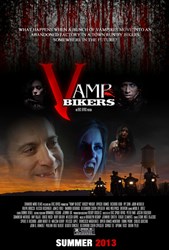 Brooklyn, New York (PRWEB) November 23, 2013
Diamond Mind Films announces the screening of their latest movie 'Vamp Bikers.' 'Vamp Bikers' replaces classic capes and coffins with leather jackets and motorcycles, when a biker town is overrun with a clan of ancient vampires hungry for blood.
The movie will debut at the Anthology Archive Film Series on Nov 27th, 2013 and was selected by Barney Oldfield (GM of Angelika Films) for the New FilmMakers NY series, which honor films and videos often overlooked by traditional film festivals.
Eric Spade Rivas, Director of 'Vamp Bikers,' was the winner of the Coney Island Film Festival in 2012 and the Puerto Rican Heritage Film Festival for his movie 'Lost in Coney Island.' Rivas's original production depicted a suffering film company attempting to remake the cult classic ''The Warriors.' Members of the original 'Warriors' gang reprised their roles for the first time in years and were featured in the independent film. Actual motorcycle clubs contributed their time (and Harleys) to lend the film an additional air of authenticity beyond its Coney Island locale. The bikers who were featured in 'Lost in Coney Island' make a comeback in 2013's 'Vamp Bikers.'
"This is a story where the little man came up and created and captured the hearts and minds of the cult classic," Apache Ramos, who played Orphan in the original 'Warriors', applauded the new production. "It took 30 years for someone to come up with the guts to do a remake and 'Lost in Coney Island' was the independent version of it."
Mark A. Ortiz (of 'Skullz') is the biker consultant. Screamin Rachael of Trax Records has also acted and contributed 'Vamp Bikers' a custom remix done under her label Trax records with the legendary music producer and DJ Todd Terry. Man Parrish tied the production together with an original film score.
This project has been a combined effort of talents starting with Annmarie Fasano (casting associate Assistant to the Director) Manuel Acevedo (casting associate and one of the assistants to the Director) Freddy Rosales (assistant to director-and Production assistant), Phil DiMaria (Film Festival promoter & actor), Ronnie Rebel (with locations and Production Assistance), Shadi Best and Josh Eichenbaum who split the DP role, John Ramirez – PR, Web & Sound Engineer, Mark Ortiz Albert Dekota Sanchez and Raphael Martinez – who were the Biker consultants. Overall, a lot of good folks pitched in with no money and contributed with time and their talents.
Check out the comeback of the 1979 Warriors featuring cast members Dorsey Wright - Cleon (who was also was in HAIR directed by Milos Forman) Apache Ramos - Lead Orphan, and Brian Tyler - Snow in "Vamp Bikers" at the Anthology Archive Films on November 27th at 8:45PM. It is located at 41 First Ave, (between 2nd and 3rd Sts), 10003.
Additional sources: Brooklyn News 12, NY1 News (Spanish/English formats)
http://www.brooklynpaper.com/stories/36/32/24_vampbikers_2013_08_09_bk.html
Brooklyn Eagle
http://brooklyneagle.com/articles/brooklyn-filmmaker-pays-homage-coney-cult-film-warriors'-2013-11-14-210000
El Diario La Prensa NY
http://www.eldiariony.com/