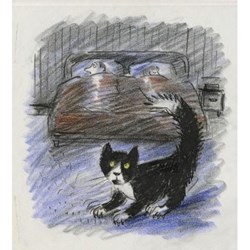 Operation Kindness has saved more than 75,000 animals since its inception!
Dallas, Texas (PRWEB) November 25, 2013
Storyopolis Art and Operation Kindness have teamed up to bring to dog and cat lovers a very unique and fun art collection depicting our beloved animal friends. A percentage of the proceeds benefit Operation Kindness, the oldest and largest no-kill animal shelter in North Texas. Your art purchase by such greats as Lucy Cousins, Marc Simont, Tim Bowers, Mark Teague, Barry Moser, Michael J. Rosen, Robert Sabuda and Janet Stevens will become even more valuable to you because you have the pride of knowing you played an instrumental role in saving the lives of homeless dogs and cats. Operation Kindness is an amazing nonprofit organization that has saved thousands of dogs and cats who then are adopted into loving and caring homes.
Development Director Nikki Walker says, "Animals and art enrich our lives far beyond what we imagine. A partnership that builds upon both is the perfect beginning between Operation Kindness and Storyopolis Art."
Storyopolis Art Co-Owner Kristine Abramowitz shares, "When you first walk through the doors of Operation Kindness, you immediately sense the love and care the cats and dogs receive from the amazing staff. Matthew and I have seen first hand the devotion the team at Operation Kindness exercises to ensure the well being of each animal, (this was especially demonstrated after the recent devastating tornadoes in North Texas). I have had the honor of volunteering along side the skilled staff at Operation Kindness and am overwhelmed by the energy and compassion they put into their mission to find forever, loving homes for each animal. It is through greatly appreciated and generous donations that this facility can provide professional veterinary care, a state of the art facility, and dedicated administrators. The continued support of our community is vital to continuing the meaningful work and success of Operation Kindness. We are very excited to have such a unique collection of art available for purchase in which a percentage of the proceeds helps Operation Kindness continue its heartfelt work to provide proper veterinary care in a loving and safe environment."
To search Storyopolis Art's special online art collection, please go to http://storyopolisart.com/operation-kindness.php and you will be taken to the Storyopolis Art online gallery established for Operation Kindness. Again, all the proceeds benefit this wonderful rescue group.
About Operation Kindness
Founded in 1976, Operation Kindness is the oldest and largest no-kill shelter in North Texas. Operation Kindness has saved more than 75,000 animals since its inception. The shelter cares for an average of 400 animals on a day-to-day basis, with another 100 animals being cared for in foster homes. More than 3,000 dogs and cats are assisted by Operation Kindness each year. Operation Kindness is a 501(c)(3) non-profit organization and receives no government funding. All of its income comes from donations from individuals and businesses, adoptions, fundraising events and the sale of pet-related merchandise. The mission of Operation Kindness is to care for homeless cats and dogs in a no-kill environment until each is adopted into responsible homes and to advocate humane values and behavior. The Operation Kindness vision is a world where all cats and dogs have loving, responsible, forever homes. To learn more about Operation Kindness please also feel free to visit their wonderful website: http://www.OperationKindness.org.
About Storyopolis Art
Founded in Los Angeles in 1999 and with relocation to Dallas in 2009, Storyopolis Art is a collector's paradise for contemporary art and original illustrations from children's picture books. Storyopolis Art offers experienced collectors access to sought after pieces. In addition, its online gallery offers a visually stimulating and fun exploration for the beginning collector starting to define his/her taste. When you own a piece from the unique collection at Storyopolis Art, (whose pieces have historically increased in value) you are acquiring pieces that will become cherished family heirlooms. With ties to Hollywood as backdrop to countless movies and TV shows, Storyopolis has a worldwide, respected vintage collection of illustrated art, featuring such artists as Jules Feiffer, Gennady Spirin, William Joyce and Tim Burton. For more information regarding Storyoplis Art, please visit http://www.StoryopolisArt.com.
For More Information:
Jeremy Broekman
BROEKMAN communications
jeremy(at)broekmancomm(dot)com
818-212-9201