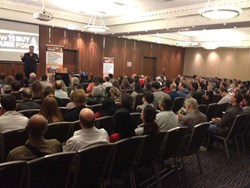 It's true that there is an easier and happier way to home ownership, but you can't tread this path unless you walk away from the old process
(PRWEB) November 23, 2013
"I believe that 'GOMO' or Grief Over Missing Out is a product of the current status of the property market, wherein home buyers are forced to competitively bid against each other just to own a handful of real estate for sale by owner," observed Rick Otton, a mentor of many real estate experts in Australia.
A clinical psychologist from the University of Canberra, Anna Gordon, explained that GOMO is a combination of disappointment, stress, and despair over the chance of becoming homeowners, and this can lead some people to become clinically depressed.
She added that buyers who suffer from GOMO are usually the ones who invested a lot of time, money, and effort just to get a chance to bid on a property for sale, but still end up empty handed after every auction, (Domain.com.au reported on 9 November 2013).
"Most of the time, young home buyers immediately fall in love with a house for sale and they start imaging themselves living their lives within its rooms, only to find themselves being outbid by another person at an auction or a private sale," according to Mr. Otton.
"GOMO, however, doesn't only affect young home buyers and their families. People in their 40s are also suffering from clinical depression when they realize that they might end up homeless after retirement, because they still can't afford to buy homes for sale," he added.
"This rise of grief and anxiety over homeownership should be enough wakeup call that new processes are needed when buying and selling houses, and this means creating ways for people to become home owners without paying a large amount of deposit or applying for a new home loan," Mr. Otton said in a new interview for his Power Property Profits Pack.
"It's true that there is an easier and happier way to homeownership, but you can't tread this path unless you walk away from the old process," he shared.
You can discover more information about Rick Otton and his creative property investment secrets through the Power Property Profits Pack. Visit http://www.howtobuyahouseforadollar.com/ now to sign up for a free copy.
About Rick Otton
For over 23 years property millionaire Rick Otton has built an impressive real estate portfolio using innovative strategies that he has developed – strategies in which transactions are made without the need for traditional bank-type loans.
He constantly refines his techniques as he buys and sells properties through his We Buy Houses business which operates in Australia, New Zealand and the UK.
A gifted speaker and educator, Mr. Otton conducts regular one-day free seminars across Australia, which build on the the concepts he shares in his 2012 book 'How To Buy A House For A Dollar', voted by Money Magazine and Dymocks Book stores as one of the Top 10 Most Popular Finance Titles for 2013.
He regularly records and publishes iTunes podcasts via his channel Creative Real Estate.
His innovative low-risk, high-reward approach to Australian real estate investing has been featured in a variety of television programs and magazines, including Today Tonight, Hot Property and Australian Property Investor.
To register for one of Mr. Otton's free Australian one day seminars visit HowToBuyAHouseForADollar.com or phone, in Australia, 1300 888 450.