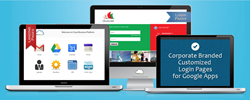 My ORG has 300 users and we use Google Apps and Sales Force and the gControl can be used for both.Very awesome product was easy to get going support is great I have had few questions that got answered right away.
SanFrancisco, CA (PRWEB) December 02, 2013
CloudCodes Software Private Limited, a pioneer in providing solutions for Google Apps customers, today announced the latest release of its flagship single sign on solution for Google Apps product gControl which now allows Google Apps administrator to block consumer Gmail within an enterprise while allowing Google Apps use without use of any hardware based firewall like MacAfee or Bluecoat suggested by Google to achieve the same purpose.
Currently when Google Apps is implemented for an enterprise, it allows the users to use consumer Gmail without any restriction. This becomes a major concern for organization where implementing corporate policy of using personal email within office becomes difficult to implement unless enterprise uses expensive firewall. For small to medium enterprises, this is a major show stoppers and sometime prevents the organization going Google.
CloudCodes gControl allows Google Apps administrator to control the access of consumer Gmail within the enterprise and report violation of Gmail block policy to administrator, reporting manager and HR. The solution is implemented without any hardware dependencies. The details of the how it works can we read here - Link.
Apart from the Gmail block features gControl complements the Google Apps administration by providing features such as IP restriction, auto logout based on time restriction, password policy, custom login page, two factor authentication using Google Authenticator, HR Broadcast, self password reset(forgot password) and rich dashboard.
gControl is available from Google Apps Marketplace. Since its launch in May 2013, more than 300,000 users across 200+ customers are using gControl for implementing various compliance within organization.
About CloudCodes
Founded in 2011, CloudCodes Software Private Limited is a privately-held organization providing solutions for Google Apps customers. CloudCodes specializes in Google Apps Engine, Google Apps Script and Google Cloud Platform. Visit CloudCodes website http://www.cloudcodes.com & http://www.gcontrolapp.com