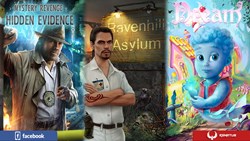 Renatus achieves ranking among the top social and mobile publishers of hidden object games
Palo Alto, California (PRWEB) November 27, 2013
Ranatus' new games experienced so much growth during October that by November, two of its hidden object titles gained nearly 365,000 monthly active players.
Renatus attributes much of the recent success to Facebook, where it ranked in the top 10 trending hidden object games.
Since Ravenhill Asylum (http://renatus.com/ravenhill-asylum) was brought to Facebook in early August, 200,000 gamers have played it on iOS and Android. In October, its monthly amount of active users grew by 18 times.
When Mystery Revenge: Hidden Evidence (http://renatus.com/mystery-revenge-hidden-evidence/) was released on Facebook this September, Renatus hit Facebook's top 10 trending hidden object games. At this time, its monthly active audience increased by 10 times.
As stated by Sean Ryan, head of Game Partnerships at Facebook, "The platform attracts developers and publishers of new cross-platform games like never before. It allows acquiring that critical mass of players, which are used to promote the game on mobile platforms." In his interview at GamesBeat conference 2013, Sean marked Ravenhill Asylum as an emerging new game on Facebook for its, "unusual mixture of the hidden object genre with a horror style."
Dream (http://renatus.com/dream-hog/) is currently awaiting its Facebook release, yet shows promising results on the App Store. Within the first three weeks after the iOS version launched in October, Dream's download rankings crossed the 50th mark in game categories: "puzzle", "adventure" and "family". In October, Dream ranked as the 52nd top grossing "family" games in the United States.
Mark Watt, the President of Renatus Media, LLC commented, "We have five hidden object games in our portfolio so far, alongside nearly 30 casual and mid-core titles. We're excited about our new found success, and will definitely drive more games to Facebook and other mobile platforms. Thank you Facebook for supporting us!"
About Renatus Media, LLC:
Renatus Media, LLC is a social and mobile games publishing company founded in 2012 with headquarters based in Palo Alto, California, US. Renatus' publishing portfolio includes over 30 games representing such genres as match3, casino, hidden object, RPG. The publisher targets worldwide players on the most popular social & mobile platforms: Facebook, iOS and Android. In the middle of 2013 Renatus increased its audience to 10+ million monthly active users.
Renatus cooperates with 10 game development studios based in CIS countries: Ukraine, Belarus and Russia.
For more details, contact Renatus' team:
Mark Watt
President
Renatus Media, LLC
pr(at)renatus(dot)com
+1-(415)-800-3522
Follow:
http://facebook.com/renatusgames
http://twitter.com/renatusgames