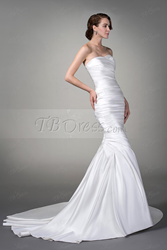 (PRWEB) November 24, 2013
TBdress.com is a well-known online dress supply store that offers many award-winning wedding dresses at low prices. The company has recently announced great discounts on all its wedding dresses. Edmond Liu, a senior spokesman for the company, states that the promotion will end on Jan. 15, 2014.
The wedding dresses from TBdress.com come with great customer reviews. According to Edmond Liu, after experiencing the store, over 80% of clients say they'll return to shop at TBdress.com again; the company is confident that its success will be replicated in 2014.
The wedding dresses at TBdress.com are hand picked for ladies who love fashion. The company strives to provide a one-stop shopping experience for the women worldwide, and it provides a wide range of choices for its customers.
At TBdress.com, ladies can access a big selection of wedding dresses directly through their computers, smartsphones or tablets. They can know if a dress is in stock or not.
"Whether you're looking for blue wedding dresses, white beach wedding dresses, elegant purple wedding dresses or more, the perfect designs are waiting in our stores. OEM orders or customer designs are also available here," the spokesman states.
In addition, TBdress.com owns many top designers who can create good-looking dresses at affordable prices. Customer satisfaction is the top priority here at TBdress.com; all its staff want to see every woman dressed in TBdress.com's outfits.
About TBdress.com
TBdress.com is one of the most popular suppliers of women's dresses (wedding dresses, evening dresses, and more). TBdress.com's passion is to provide customers with the best shopping experience so their special days are everything they dreamed.