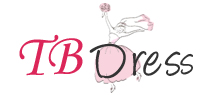 (PRWEB) November 26, 2013
The holiday season is about to arrive. It is a good chance to buy cheap wedding dresses and wedding accessories now. TBdress.com, a reliable women's dress company, has recently announced a special offer on its wedding accessories. The promotion, up to 95% off, will be valid until Jan. 15, 2013.
Tbdress' designers have incorporated the latest fashion trends in their outfits and accessories. Tbdress knows that every lady wants to look elegant and beautiful at her wedding, and the company has a wide range of wedding dresses and wedding accessories in stock. Whether customers are looking for trendy prom dresses or elegant wedding dresses, they can find the the perfect products at the online store of TBdress.com.
"We are excited to launch the promotion. As a leader in the fashion industry, we are ready to provide our customers one-stop shopping experience with an extensive range of products. Our attractive wedding accessories are hand picked for the women worldwide. Please note that the promotion will end on Jan. 15, 2013," says Edmond Liu, a spokesman for the company.
Tbdress is definitely dedicated to creating and delivering a great range of design. Customer satisfaction is a top priority and helps it better serve its clients worldwide. The competitive advantage for Tbdress lies in its ability to reward customer participation with its design team.
About TBdress.com
TBdress.com is offering extensive and stylish collections of wedding dresses and other special-occasion dresses at acceptable low prices, and its products include a wide range of wedding dresses, wedding lingerie, evening dresses, prom dresses, and more. They have vowed to provide their own wedding dresses without sacrificing the top-quality materials and fast delivery.