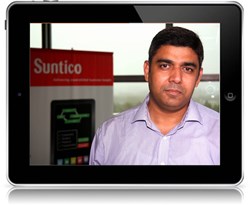 A powerful mobile solution has been created.
(PRWEB) November 22, 2013
Suntico's brand new technology will revolutionize remote access to on-premises accounting data. Suntico provides a Facebook-style interface for accessing Sage 50 data through any smart phone or tablet. This interface allows teams to remain connected over the status of accounts or transactions. Any issues, news or questions can be easily shared using a familiar set of tools.
Head of R&D Jawad Mobin explains: "Our service extracts data from on-premise accounting software and uploads it to our secure cloud database, where it can be accessed through a tablet or smart phone. When your invaluable accounting records are combined with social style collaboration, a powerful mobile solution is created."
The connector technology currently integrates with Sage 50 US Edition (Peachtree) and Sage 50 Canadian Edition (Simply Accounting). However, development is continuing and 2014 will see further integration with Sage 50 UK Edition, Xero, Intuit Quickbooks, Sage 100 ERP and Sage 300 ERP.
You can access a demo account or arrange a free trial of Suntico at http://suntico.com/pricing. Companywide implementation can form part of a free trial with no obligation to purchase. Prices range from $185US/year for 2 users to $1,495US/year for a 20 user subscription.
There is an attractive referral program for professionals that provide support to companies that use Sage 50.