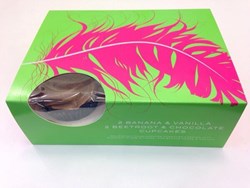 As far as I can remember I was baking with my mother and grandmother, so I was constantly in the kitchen. We were baking my great-grandmother's banana cake recipe and we suddenly realised there were so many other fruit and vegetable based flavour options
(PRWEB UK) 27 November 2013
House of Cuckoo™ have launched their 'cupcakes with a modern twist' in 19 Waitrose stores this month with the help of Alexir, who have worked in conjunction with the two company founders to create an equally suitable presentation box to showcase their bakery creations. The result has been four deliciously-flavoured Cuckoo Cupcakes® nestled in an eye catching and highly functional shelf-ready box.
Cuckoo Cupcakes® was founded back in April 2011 by Carolyn Nicholas, originally from America, and Chieko Clark. Having left behind the world of business solutions, investment management and advertising for family life the pair met and discovered they shared similar passions: feeding their young families with healthy food and their own love of cake! They soon decided they could happily combine the two by looking back to their heritage for inspiration. Nicholas' great-grandparents owned a bakery in Trenton, New Jersey, and the duo decided to use the family's 90 year-old cake recipe to build their range.
"As far as I can remember I was baking with my mother and grandmother, so I was constantly in the kitchen," said Nicholas. "Cheiko and I were baking my great-grandmother's banana cake recipe and we suddenly realised there were so many other fruit and vegetable based flavour options we could use."
At the time their children were young and eating puréed fruit and vegetables so it was a natural progression to introduce less obvious ingredients into the mixing bowl. The results are a range of delicious and sophisticated flavours including 'banana and vanilla' and 'beetroot and chocolate'. House of Cuckoo™ use traditional ingredients in a quirky way and are free from artificial food baddies, helping to educate and influence the next generation about the benefits of natural goodness.
House of Cuckoo™ were first introduced to the Alexir Partnership in June this year after securing a listing in Waitrose. Alexir worked with House of Cuckoo™ to create a carton that perfectly complemented the quirky nature of the cupcakes cushioned inside the box; the fittings have been designed from carton board specifically to secure the contents during transportation and storage. Coupled with the vivid use of colours, a stylish round window was incorporated towards the corner of the box to give visibility of the wonderful creations inside. Within a short space of time and tremendous teamwork Cuckoo Cupcakes® by House of Cuckoo™ are now sitting beautifully on the shelves in Waitrose.
For more information visit ww.houseofcuckoo.com or contact Carolyn and Cheiko on 0207 0787257.
About the Alexir Partnership
With proven reliability, excellent quality and innovative packaging solutions, the Alexir Partnership is the only UK owned company that offers a complete design to delivery service.
For more information on The Alexir Partnership please visit http://www.alexir.co.uk , email sales(at)alexir(dot)co.uk or call Claire Summersby on 01732 866681.