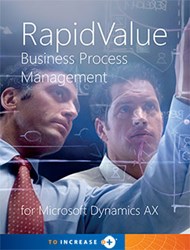 RapidValue 2014 completely changes the way companies plan for and implement Microsoft Dynamics AX.
Veenendaal, Netherlands (PRWEB) November 22, 2013
To-Increase, one of the leading developers of industry and business technology solutions for Microsoft Dynamics, today releases the latest version of its widely adopted business process management (BPM) solution, RapidValue 2014. In this iteration, RapidValue provides a number of new capabilities that help companies take advantage of a proven, value-driven BPM approach to achieve a successful implementation of Microsoft Dynamics and manage the solution strategically throughout its lifecycle. "We still see that companies invest in ERP systems and go through challenging implementations only to find that the result is nowhere near as beneficial as what they hoped to achieve," says Petur Snaeland, Software Architect at To-Increase. "Our customers can avoid that experience. With RapidValue 2014, we deliver a powerful tool that enables them to optimize their business processes and realize the best possible alignment between organizational strategy, processes, and business management technology. RapidValue makes the management discipline of value-driven BPM manageable, practical, and powerful for enterprises as well as smaller companies."
In the 2014 release, RapidValue offers full support for Microsoft Dynamics Lifecycle Services, enabling businesses and their technology providers to benefit from that solution's collaborative workspaces as well as efficient, value-driven BPM. Vastly enhanced multi-language capabilities addresses a frequent challenge in international ERP deployments by making it easy to create and publish implementation-related content inexpensively and quickly. Users can now draw on role-based, contextual guidance in working with the solution. ERP testers can create tests automatically from processes and perform effective testing in line with a company's business model. Key solution statistics highlight the completion, maturation, and composition of solutions in RapidValue and help implementers act on opportunities for improvement.
"Many of our customers and partners around the world already understand that value-driven BPM can help companies achieve a successful deployment that results in sustainable ROI from their ERP investment," explains Cornelis Bosch, CEO at To-Increase. "We aim to revolutionize ERP implementations by offering an effective set of tools to minimize the risk of ERP projects, structure them for best efficiency, and make them predictable."
About To-Increase
At To-Increase, teams of seasoned industry experts and creative technologists come together to build software solutions that help our customers operate and grow more efficiently and sharpen their competitive edge. To-Increase dives deeply into the issues and trends that affect our customers' industries and markets and find the best ways to use technology in addressing the issues they face every day. As of 2013, more than 1,600 customers worldwide run their operations with our enterprise software solutions for the construction, discrete manufacturing, distribution, food, and retail industries.
Our cross-industry solutions help companies translate their processes into solution capabilities, optimize their supply and value chains, and build integrated business management infrastructures. Because we incorporate all critical business processes into our products, you can meet your unique requirements with standardized technology that is easy and economical to implement, maintain, and upgrade. To learn more, visit http://www.to-increase.com or contact info(at)to-increase(dot)com.
###
All trademarks and trade names mentioned herein are the properties of their respective holders and are hereby acknowledged.