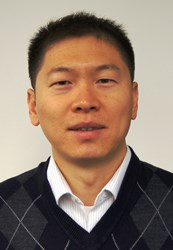 Jing understands eCommerce fulfillment.
Santa Fe Springs, CA (PRWEB) November 26, 2013
Weber Logistics has hired Jing Zeng as Senior Director, Industrial Engineering, responsible for driving distribution process efficiency at all Weber facilities through the intelligent use of systems and automation.
Zeng is the former Senior Director of Logistics Engineering at Newegg.com, a $2.9 billion e-retailer of electronics, which operates more than 1.6 million square feet of fulfillment space in the U.S. alone. There he served as chief engineer and project manager for dozens of expansion projects, including several multi-million dollar projects involving sophisticated warehouse automation.
"Jing understands eCommerce fulfillment and how to bring efficiency to high-volume, high-velocity, pick and pack operations," says Weber CEO, Harry Drajpuch. "One of his roles will be to support Weber's continued growth in this area to help our customers meet the challenge of omni-channel fulfillment."
According to Drajpuch, Zeng's primary focus will be leveraging his expertise in industrial engineering and Lean Six Sigma to drive continuous improvement in customer operations through automation and systems, process redesign, warehouse layout improvements and other optimization techniques.
Born in China, Zeng earned a Master's Degree in Philosophy, Industrial Engineering and Logistics Management from the Hong Kong University of Science and Technology. His areas of expertise include eCommerce, warehouse design, material handling systems, warehouse management systems, Lean Six Sigma, Auto CAD and inventory control.
About Weber Logistics
Founded in 1924, Weber Logistics provides warehousing, transportation, and import logistics solutions, including California warehousing and California trucking services. With distribution centers and freight terminals throughout the Western U.S., Weber gives growing companies flexible, scalable distribution solutions for their West region customers.