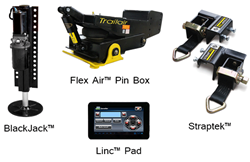 We've talked with customers, identified their needs, and once again answered the call with these innovative new products.
Elkhart, IN (PRWEB) November 26, 2013
Lippert Components, Inc. (LCI™) is known for listening to customers, identifying unmet needs in the market and developing excellent solutions to fill those needs. LCI will introduce several innovative new products, provide comprehensive customer support and offer a sneak peek at its new website at the RVIA National Trade Show in Louisville, Ky., on Dec. 3-5.
LCI will be showcasing its upgraded Ground Control™ electronic leveling system, Linc™ Pad and Linc™ Digital Switch System, and Solera® Awning products. LCI will also debut several new products including Straptek™, Flex Air™ Pin Box, Power Drive™ Tongue Jack, BlackJack™, Tread Lite™ Power Step and Sure-Step™.
"We are excited to be bringing several new products to market at the Louisville show this year," said Vice President of RV Sales Andy Murray. "We've talked with customers, identified their needs, and once again answered the call with these innovative new products."
Preview these new products at the show at South Wing Hallway booth #5:
•Straptek simplifies weight distribution hitch systems (WDS) for RVs by employing a ratchet winch and heavy-duty polyester straps instead of traditional chains and snap-up brackets. StrapTek also provides sway control and is compatible with most WDS.
•The Flex Air Pin Box combines our time-tested Trailair® air ride technology with our Rota-Flex® pivoting head to create an unparalleled ride, reducing chucking and the vertical tug-of-war between the fifth-wheel RV and tow vehicle.
•LCI's Power Drive Tongue Jack allows for manual cranking, but also features a detachable handle, allowing RV owners to use a ¾-inch hex head and power drill to easily run the jack up and down. Two integrated LED lights make it easy to operate at night.
•LCI will showcase several upgrades to its Solera Awning line, including a redesigned short arm application with patent-pending friction joint adjustment; in-awning speakers; flood lights; and a variety of LED lighting options.
•The Linc Pad and Smart Switch System can wirelessly control slide rooms, awnings, lighting and landing gear. It monitors water tank and battery levels, and its CAN bus technology eliminates redundant wiring runs, creating BOM reduction opportunities.
•The revolutionary Blackjack automatic leveling system features the RV industry's first and only self-contained hydraulic leveling legs. This fast and powerful one-touch system is easy to install and maintain with no hoses or power unit to set up.
•Ground Control 3.0's 'Hall Effect' leveling technology provides faster, more precise leveling with telescoping rear legs that do not need drop pins. The remote-compatible system features an auto-rehitch memory option, taking the guesswork out of hookup.
•The Tread Lite Power Step features lightweight aluminum treads, anodized components that stand up to the elements, a powerful heavy-duty motor and an upgraded mechanism that improves the sturdiness of the step.
•The aluminum Sure-Step fastens to the RV sidewall, rear wall, exterior slide-out wall or over a wheel well, allowing OEMs to create versatile floor plans. Sure-Step's adjustable feet contact the ground in the extended position, providing greater stability.
About Lippert Components™:
Lippert Components, Inc. (LCI™) and Kinro, Inc., its sister company, subsidiaries of Drew Industries Incorporated (NYSE:DW), are industry leaders in a broad line of products dedicated to improving the mobile lifestyle. LCI and Kinro supply a broad array of components including chassis, fabricated steel chassis parts, slide-out mechanisms, axles, upholstered furniture, mattresses, windows, doors, leveling and stabilization equipment, suspension enhancement products, electronics, thermoformed products, awnings and aluminum extrusion products for RVs; manufactured homes; modular housing; truck caps and buses; and trailers used to haul boats, livestock, equipment and other cargo.
Lippert Components, Inc.
3501 County Road 6 East
Elkhart, IN 46514
574-535-1125