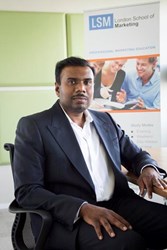 Your career will begin when you effectively sell yourself to your preferred employer
(PRWEB UK) 22 November 2013
Anton Dominique, the COO/CFO of London School of Marketing, a leading institution offering accredited marketing and business qualifications in the heart of London, has had an article published on TheBigChoice.com, a major online resource for student and graduate job hunting. In it, Mr. Dominique advises employment seekers how to get a job in marketing.
Before getting involved in the global expansion of London School of Marketing, Anton Dominique had already acquired a lot of experience in the field of marketing. Having spent many happy years becoming an expert in the field, Mr. Dominique wants to persuade young, talented graduates to consider joining the profession. An industry that he believes is fast-paced and engaging.
"What makes a marketer different from the others?" Asks Mr. Dominique. "Marketing is an enjoyable and fun career that leaves you with something new to learn every single day. The dynamisms of markets add vitality to the role and provide challenges to keep that adrenaline rush rolling."
As the head of the UK's leading provider of professional marketing courses, as well as academic programmes, one-day Masterclasses and extensive online services, Mr. Dominique has a deep understanding of the challenges faced my marketing students and graduates. In this article, he has drawn upon this wealth of experience to offer the next generation of marketers invaluable advice.
"Your career will begin when you effectively sell yourself to your preferred employer," Mr. Dominique informs the students and graduates. "You need to develop a results oriented resume and explain how you will add to the organisation's bottom line. You should aim to highlight your expertise, key skills and your value to the employer and build your sales pitch through your resume." Read the full article at http://info.londonschoolofmarketing.com/press/press_big-choice/
London School of Marketing delivers accredited marketing and business qualifications, and offers courses from recognised professional bodies such as CIM, ABP and CAM, BA (Hons) Marketing, MA Marketing and Innovation, and an MBA from Anglia Ruskin University. Based in Central London, they are a QAA approved institution and hold Highly Trusted Status with the UKBA. The school also has offices in Sri Lanka, a network of Overseas Support Branches (OSBs), and online programmes of learning. Courses are run over a broad range of study modes. Further details are available at: http://www.londonschoolofmarketing.com.