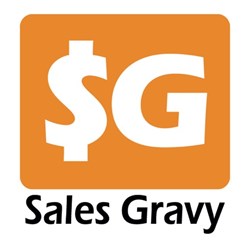 "…. you can make sure you're always advertising your jobs where they will be viewed by the right kind of candidates." - SmartRecruiters.com
Augusta, GA (PRWEB) November 26, 2013
SmartRecruiters, a leading provider of recruiting software, recently named SalesGravy.com as a 'Top 50 Job Board.' This list is compiled based on the high volume of traffic generated at the named sites.
According to SmartRecruiters, "...you can make sure you're always advertising your jobs where they will be viewed by the right kind of candidates." Sales Gravy boasts the largest dedicated sales talent community on the web, and attracts a rich audience of college educated, upwardly mobile sales professionals.
As an employer, it can be difficult to find the perfect candidate to fill positions. While hundreds of candidates may be applying to the listing, how many are really qualified? In this economy, it is too risky and expensive to hire an employee, spend the time to train them, only to fire them because they turned out to be the wrong candidate for the job.
Sales Gravy has an online member database of over 500,000 people, and all of them are qualified sales professionals. From sales representatives to managers, the perfect candidate is waiting to bring a positive and professional experience to your company on SalesGravy.com.
"Employment advertising on SalesGravy.com is a quick and easy process. Our staff is dedicated to helping our clients find the best sales professionals for their companies," said Carrie Martinez, Sales Gravy's CFO. "We strive hard to exceed the needs of our clients and provide a quality customer experience. We feel honored to be named among the best on the Top 50 Job Boards," stated Martinez.
About Sales Gravy: SalesGravy.com helps employers Find Better Salespeople Fast™. Sales Gravy boasts the world's largest sales talent community and attracts a rich audience of college educated B2B sales professionals and sales leaders. To learn more about how Sales Gravy can help your company source, recruit and hire better salespeople, please visit http://www.salesgravy.com or call 706-664-0810 x108.