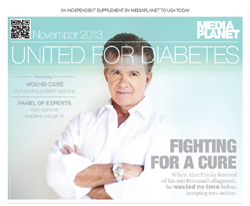 New York, New York (PRWEB) November 22, 2013
In the midst of Diabetes Awareness Month, we should all take a moment to acknowledge this disease, those that it affects on a daily basis, and take a moment to learn and understand more about diabetes as it grows more and more prevalent in our society. Mediaplanet's 2013 edition of 'United for Diabetes,' a centerfold special within USA Today and corresponding Digital Campaign, launched today to an audience of millions.
Through this special interest section, Mediaplanet and its partners aim to educate millions about both type 1 and type 2 diabetes, while also highlighting what is currently happening in this united industry and ultimately providing continued hope and support for the 26 million people that manage this disease 24/7. The campaign aims to empower those with diabetes through education of the differences between type-1 and type-2 diabetes, while also highlighting what tools are available to assist in making the full time management just a little bit easier. It also aims to inspire readers to recognize how prevalent this disease has become and to understand the symptoms associated with diabetes to be able to take control of their own health.
The 16-page special will remain on the stands through Saturday and Sunday, and will be distributed in highly targeted markets within USA Today, with approximately 450,000 copies distributed and an estimated readership of 1.4 million. To explore the digital version of the campaign, click United for Diabetes.
The glossy, full-color special section features Alan Thicke, diabetes advocate whose now adult son was first diagnosed with type 1 diabetes at the age of four. Standing firm in bringing awareness and education to diabetes, Thicke shares his story from a parent's perspective and encourages others to get involved in ultimately finding a cure.
With the support of the American Association of Diabetes Educators, Alan Thicke, Defeat Diabetes, the Diabetes Behavioral Institute, the Diabetes Research Institute, the International Diabetes Federation, and other organizations, Mediaplanet encourages readers to educate themselves on diabetes and to bring awareness to better understand this disease which affects millions.
About Mediaplanet
Mediaplanet is the leading independent publisher of content-marketing campaigns covering a variety of topics and industries. We turn consumer interest into action by providing readers with motivational editorial, pairing it with relevant advertisers, and distributing it within top newspapers and online platforms around the world.