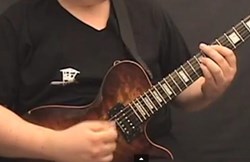 (PRWEB) November 22, 2013
In this guitar lesson, now available on YouTube.com, Silvio Gazquez teaches a classic riff from "Cherokee" by Europe. TAB's for this lesson are available at GuitarControl.com.
A "riff" is the catchy part of a song that sticks in your head. One of the most recognizable guitar riffs of all time is "Smoke on the water" by Deep Purple.
In this rhythm guitar lesson, Silvio demonstrates a very popular and recognizable riff from Europe. This riff is composed of a chord progression made up of Power Chords. Power Chords are two note chords used primarily in hard rock and heavy metal music and consist of the Root Note (first note of major scale) and Perfect 5th (5th note of major scale), the chords in the progression are E5, D5, G5, and C5. Silvio breaks it all down so even the novice guitarist can learn this classic riff.
Europe was formed in 1979 in Stockholm Sweden by vocalist Joey Tempest. They gained international popularity in the 1980's with there hit The Final Countdown and have released nine studio albums and three live albums that have sold over 20 million albums world wide. The band has had numerous lineup changes among which was notable guitarist Kee Marcello.
Silvio Gazquez is a native of Argentina and began studying guitar at the age of 14. At age 18 Silvio moved to La Plata to study classical guitar at Bellas Artes University. After three years Silvio left to pursue the electric guitar on his own. In 2004 Gazquez was chosen as a finalist for the Guitar Idol contest, but was not able to make the trip, but was chosen to participate on the Guitar Idol compilation CD. Since 2008 he has been working as a full-time guitar consultant for an U.S based Guitarcontrol.com. He has won several YouTube contests. In 2008 and 2009, Silvio also was a two times Guitar idol finalist, attending to the final in London, UK, in 2009. In January, Silvio attended to NAMM 2012 as endorser of SPEAR guitars. He's also working on his first solo album.
About GuitarControl.com
GuitarControl.com is the leader in modern guitar instruction. It's packed with recourses including articles, video lessons, and the best videos in the business for the beginner to the advanced guitar student taught by the best instructors out there. Weather you are into the blues, rock, jazz, metal, folk, or anything in between, they have you covered.