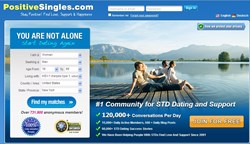 Los Angeles (PRWEB) November 26, 2013
World AIDS Day is dedicated to raising public awareness of the AIDS pandemic caused by HIV infection. Recently, PositiveSingles.com held a survey for people with HIV about their attitudes towards World AIDS Day. Most of its members with HIV expected the coming of World AIDS Day, but there were still parts of people with HIV who did not look forward to the day.
2256 members with HIV took part in this survey. 86.3% of participants expressed that World AIDS Day plays a vital role in the worldwide to fight against AIDS." On that day AIDS patients get global attention," said Charles Lands, one of the members with HIV. According to the survey by Global Fund, "the number of people dying of AIDS-related causes fell to 1.7 million in 2011, down from a peak of 2.2 million in the mid-2000s; in 2012 alone 700,000 AIDS related deaths were averted", after the plan "Getting To Zero" got started in 2011.
Although 86.3% of HIV members showed their favor for World AIDS Day, there were still 13.6% of members who voted against World AIDS Day. They gave their personal reasons. "It reminds me that I have AIDS." "On that day, my friends would care about me much more than usual. That makes me uncomfortable." "What HIV people really need is equality and respect." said Adam Cotton, CEO of PositiveSingles.